Peter Pan in Scarlet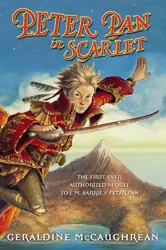 Neverland is calling again (or so says the marketing blurb). Today saw the publication of Peter Pan in Scarlet in 38 countries. It is, as you might guess, the sequel to JM Barrie's immortal Peter Pan. Set in the 1920s, two decades on from the original, we are told that Michael has been killed in the Great War, Tootles is a cross-dresser, and Wendy is a feminist.
Unfortunately, you will not be hearing Natasha read Peter Pan. Normally works come out of copyright 70 years after the death of the author, which in Barrie's case is next year. Barrie left the royalties of Peter Pan to Great Ormand Street Hospital for Children, and in 1988 a special Act of Parliament extended the copyright in perpetuity – in the United Kingdom that is. Parliament can't do anything about the rest of the world.
Conscious that the Peter Pan Royalties from abroad would dry up next year, the hospital ran a competition to choose an author to write a new Peter Pan book. This resulted in the choice of Geraldine McCaughrean who, according to the Telegraph, is about to experience her "JK Rowling moment". The best of luck to her, and Great Ormand Street.
And by the way, if any hospital wants to use our audio stories over the internal radio – that's fine by us. See our copyright page for details. It's great though, if you can let us know, as we love to receive feedback.
P.S. You can hear Tim Curry read an extract from Peter Pan in Scarlet on the Simon Says Podcast from publishers Simon & Schuster. (mp3 file)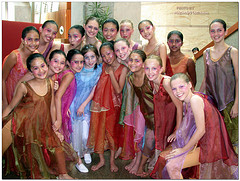 (Picture: The Cast of Peter Pan in Singapore from Madaboutasia on Flickr)