JK Rowling at Exeter College, Oxford
By Hugh Fraser, Storynory's editor.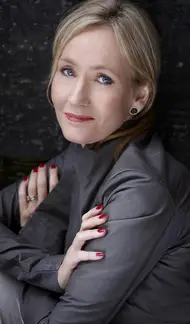 .
I saw JK Rowling – the Harry Potter author – at an event organised by Exeter College, Oxford yesterday. Oxford's Sheldonian theatre was packed with young undergraduates It was lovely to be back in a big room so full of fresh-faced bright and brainy young things – not yet carrying too much baggage of life.
JK was interviewed by the college's English Tutor, Jeri Johnson. She knew JK from a court case in New York where she had been an expert witness.
JK was worried about doing a "tutorial" in front of a thousand or so people. Actually she came across as very well read – and at one point Jeri Johnson quipped that she felt like she was the one having a tutorial.
JK is pretty and petite, she crosses her very skinny legs and leans back in her chair away from her interviewer (pictures were very strictly forbidden on pain of "eviction"). She is lively and witty. But is she profound?
The subject chosen by JK herself for the event was "Morality and Mortality in Harry Potter."
The essential point is that Harry Potter overcomes his fear of death while Lord Voldemort is running away from death. There is a French derivation of his name, connected to JK's mother's name, that means "flying."
Her mother, (Anne Rowling – née Volant), died aged 45 while JK was writing the books. That had a big effect on her writing. Death is her big theme.
One young student fought back the tears as she described how, aged 8, she read the Philosopher's Stone. It was the first time she recognised her own morality and beliefs in a book . JK was very touched.
A student from China stood up and repeatedly bowed to JK.  She wept buckets and described how reading Harry Potter inspired her that she could achieve "anything" and that's how she aimed to go to Oxford.
The boys were less emotional – and in my view more on the button. One asked how come death is the worst crime in Harry Potter, while death is also described as something easy and not to be feared like falling through a veil. She replied that he was right that that was exactly her view – not attempting to tackle the paradox at all.
Another asked if Witches and Wizards believe in God. She said only one person – a child – had asked that before, and the reply was that some wizards – like Dumbledore – do believe in God.
Another questioner pressed the religion thing. He noted the absence of both Americans and Organised Religion in Potter. She replied to the Americans part of the question – (she is working on a film script with some American wizards in it). But not about the religion part.
If you are choosing to talk about Morality and Mortality in your books, how can you skip the religion question? Perhaps she is too much of a public figure to stray into such controversial territory. But there it was.
Full marks to JK for writing about death in a children's book. Full marks for facing a room of the best and brightest, and discussing her work with learning, wit and charm. But a fail for saying anything profound. Perhaps authors are best leaving it to readers to discover profundity in their texts?
I was most interested in how her work had so moved and changed the lives of young people. That was very impressive and striking.