All Stories in Order of Publication Page 6
This fabulous story from the Jungle Book is about a mongoose who is adopted by an English family in India. He resolutely defends the boy Teddy from the deadly cobra, Nag, and his wicked wife Nagaina.

The plucky Indian Mongoose defends an English family from the evil cobras, Nag and Nagaina. The climax on the veranda where Nagaina confronts the family at breakfast is one of the most thrilling in children's literature.
Advice from a Caterpillar. Our shrunken heroine meets a caterpillar who infuriates her with his curt contradictions. Next she is accused by a pigeon of being a serpent, and Alice is forced to admit that she does eat eggs sometimes.

All the pond life are excited by Valentine's day. But nobody is more excited than Bertie the frog. All he has to do, is to lure the Lovely Princess Beatrice Down to the Pond, receive her kiss from her, and he will turn back into his true self – a handsome prince.
The rags to riches story of Dick Whittington and his cat is not just a fairy tale: it is part of the folklore of London. Today there is a monument to his cat near the Whittington Stone pub at the foot of Highgate Hill where Dick sat down and heard the famous Bow Bells of East London ring out: Turn Again Whittington! Thrice Lord Mayor of London!
This is a story about a very odd bird called Tick Tock Turkey, his friend Future Dog, and a sandwich that disappeared, mysteriously, into thin air….
Pig and Pepper. We meet the Duchess, roughly handling a baby who looks like a pig, and the Cheshire cat who likes to vanish leaving only his grin behind. All this and two footmen who look like fish.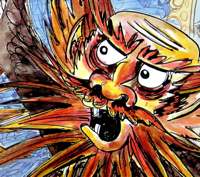 Rumpelstiltskin, magical, wild, and full of rage, comes to the aid of a young girl who is given the impossible task of weaving straw into gold. She makes him a rash promise, which she finds hard to keep.
Mystery and romance as a poor cowherd solves the mystery of where 12 princesses disappear to at night.
The Mad Hatter's Tea Party – one of the most famous of all chapters in children's literature – is here presented in all its wonderful lunacy. A mad March Hare, an even madder Hatter, and a dozy dormouse provide company for Alice at tea table where the party never ceases because time is stuck perpetually at 6pm.