Ramayana Part 3 – The Palace Plot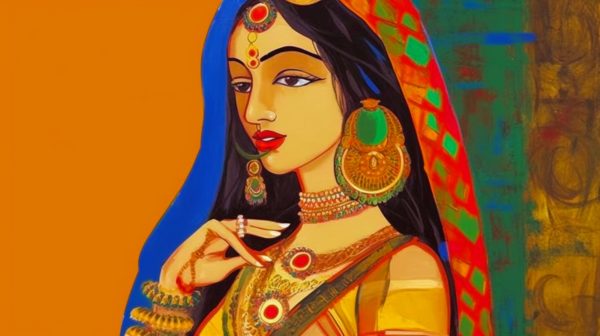 King Daśaratha is about to announce that his Son Rama will be the next King. But Queen Kaikeyi wants her son to be king. A plot unfolds and the king faces a terrible dilemma.
Read by Jana and featuring the voices of her Sister Cousins, Parveen and Elizabeth.
Hello, this is Jana, welcome to Storynory, and the third episode of the Indian epic, the Ramayana. In a moment, I'll be continuing the story with two new voices; my sister cousins Parveen and Elizabeth. This episode features plenty of palace plotting and intrigue!
But first, I'm going to give you a little reminder about the characters.
King Daśaratha of Ayodhya had three wives.
Kauśhalyã - the eldest, most revered wife, and mother of Rama.
Sumitra - the mother of the twins, Lakshmana and Shatrughna
And Kaikeyi - the youngest queen and mother of Bharata.
All four sons of the wives have a little of the God Vishnu in them, but Rama has the most, and is therefore the most god-like of the brothers.
In the previous episode, Rama married Princess Sita, and returned with her to the kingdom of Ayodhya. Some time later, his brother, Bharata left the palace to visit his relatives in another kingdom.
So now let's continue with the story which introduces a new character to the plot.
Manthará , a servant loyal to Queen Kaikeyi, mounted the stairs of the Royal Palace, rising like the moon. As she climbed, she could hear drums and musical instruments, and her nostrils were filled with the buttery scent of sandalwood. When she reached the flat rooftop, she paused to catch her breath, before gazing out over the city of Ayodhya , which that evening was more splendid than ever.
For the past few days, workers had been scrubbing the stones of the Royal streets until they dazzled in the sunlight. And now soldiers in bright uniforms were lining the pavements and crowds were gathering behind them.
Manthará was not alone on the rooftop. Another servant, a nurse, was also taking in the view. Her eyes goggled with delight.
Parv:
Manthará turned to the nurse and asked: "Why is the whole city getting ready to celebrate? Is Rama's mother going to throw gold and silver coins to the masses? The people are hanging around on the streets, as if they expect some sort of free gifts."
(Jana)
And the nurse gushed out, "Oh, haven't you heard the joyous news? King Dashratha (DA-sha-ra-tha) is about to appoint his son, Prince Rama, as the new king. All the people are celebrating because they love Prince Rama, who is a tiger among men. And as you rightly say, Queen Kauśalyá (Kau-SA-Lya), who has kindness in her soul, has promised to give money to the people."
Parv:
The news was anything but joyous to Manthará. She turned up her nose and said, "Well that explains it. No wonder Rama's mother is in such a generous mood. Her son will soon be king. She can afford to give away money now."
Parv:
And then she added under her breath, "unless I can prevent this happening." And then she gathered up her skirts and left hastily, descending the stairs, and heading straight for the chamber of Queen Kaikeyí, the mother of Prince Bharata. There the servant spoke to the queen as follows:
Parv:
"You foolish woman! What are you doing lounging around as if nothing important is happening? Don't you realise that grief and misfortune are coming for you? Why aren't you begging your husband to see sense? Has your face lost its beauty? Have you forgotten how to use your charms? Don't you see your last chance to save yourself from ruin?"
The queen, who had been resting on her couch, tried to sooth her distraught servant, speaking gently.
El:
"Manthará, what is upsetting you? You can tell me what is troubling you. You know that I will always look after you."
Parv:
Manthará drew a deep breath, and steadied herself, before explaining.
"Your majesty, do not think that I am worried on my own account. What happens to me is of no consequence. It is your fate that is concerning me. Have you not heard the terrible news? The whole city is celebrating because Daśaratha is about to name Rama as the next king."
El:
Kaikeyí laughed with relief. "My dear, is that all that is troubling you? This is far from terrible news. It is a cause for happiness, for Rama is the best of men. His gurus have taught him well. He knows right from wrong, and I love him just as much as my own son, Bharata." (BHA-ra-ta)
Parv:
A look of astonishment and disbelief passed over Manthara's face as her eyes widened and her mouth gaped.
She began to shed hot tears as she implored Kaikeyí :
"My queen, you think that way because you are too innocent and do not know the ways of the world. Do you not see how a Kauśhalyã envies your youth and beauty? Do you not realise how she longs to take her revenge on you? As soon as her son is king, she will have all the power, and she will make her move. She will banish you, or have you killed. The best you can hope for is to stay in the palace as her servant… Oh, what a sneaky old devil the king is, don't you see? He sent your son Bharata packing, , and as soon as he was safely out of the way, he picked Rama to be the next king. How can you, dear queen, with your lovely heart, hope to keep up with such tricks? He pretends to love you, but really he is like a viper in your bosom. So wake up I say! Now is the time to save yourself!"
Finally the young queen began to see why Manthará was so agitated. She got up from the couch and took a jewel from her hair, which she then gave to her servant, and then, trembling, she asked:
El:
"Manthará, it is true that you are loyal, and have my welfare at heart. But what can I do to avoid this terrible fate coming to pass?"
Parv:
"What you must do, my dear, is this. You must go straight to the chamber of King Daśaratha. Hurry! Do not waste any time. There you must wait for him. When he arrives, he must find you, tearing your hair and sobbing your eyes out. He will pity you. He will not be able to help himsel as he is a weak and foolish old man and you are his most darling young queen. He would go through fire for your sake. He would give his own life for you. Then use your beauty. Look up at him with your big eyes. Remind him of the time he promised you two favours. Do you recall? He was wounded in battle and you nursed him back to health. He was so grateful that he promised you anything you wanted, twice over, and you. Well now is the time to call the favours in. He cannot refuse, for he is a foolish but honest man, and he cannot break a promise. Tell him that for the first favour, he must banish Rama to the forest for nine years. Then for the second, he must announce that your son, Bharata, shall be king. Do you understand what must be done?'
El:
"Yes, Manthará, I understand what I must do," said the Queen to her servant.
So she immediately left her chamber, and hurried along to King Daśarath's rooms. Just as Manthará had said, while the young queen waited for Daśaratha, she messed up her hair and rubbed her eyes until they were red. When the kindly king came into his rooms, he found her lying on the floor, beating her fists up and down and kicking her feet in the air.
(Hugh)
"What is the matter, my dear?" he asked, picking her up, and stroking her hand. "I cannot understand why you should be so upset. Are you unwell? Shall I call a doctor?"
El:
The queen turned to him, and he wiped the tears off her face with a silk scarf, until, eventually, she said, "In my whole life, nobody has treated me with so much disrespect as you have done."
(Hugh)
"What my dear? How can you say such a thing? Save for Rama, there is nobody in the whole wide world that I love as much as you. I will do anything to make you happy."
El:
"Well if you really love me, and don't just pretend, you will recall how, after I nursed your battle wounds, and brought you back to health, you offered me two favours."
(Hugh)
"Certainly my dear."
El:
"And that you agreed that I could save those favours until I needed them."
(Hugh)
"I do so recall."
El:
"Well at least you have not forgotten. So, now I need you to keep your promise as guaranteed by holy law. If you truly are a man of honour, as the people say you are, you will not break your word."
(Hugh)
"Of course. You only have to say what you want and it shall be so."
El:
"Do you swear by Indra and all the gods, and the sun, the moon, the earth and all the stars, that you will keep your word to me?"
(Hugh)
"I do,"
El:
"Oh Good. This is what I require. Listen carefully and do not falter. First, banish Rama to the forest for nine years. Second, announce to the people that my son. Bharata, shall be king in his place."
It was hard for King Daśaratha to take in these words. Was this a joke? Was she about to giggle and say that she was just testing him, and of course all she really wanted was a box of jewels or a baby elephant or a gallon of perfume. He half smiled at the thought and said, "My dear, you know I can't do that."
El:
And she flashed back at him with eyes blazing: "So you aren't a man of honour, and you don't love me, and you don't keep your promises, you are just a fake, an actor, a hypocrite king."
(Hugh)
"No, no my dear, I am a man of my word, but it is wrong of you to ask this of me,"
El:
"No it isn't, you promised me I could have anything I wanted, and this is what I want… In fact I demand that you keep your solemn oath that you gave me just a minute ago."
The king could bear this no longer. With tears soaking his old cheeks, he left his scheming youngest wife, and went to his eldest queen, Kauśalyã, the mother of Rama.
(Hugh)
"Dear, Most respected wife," he said. "Something terrible has happened. As you know, I intended to anoint our son, Rama, as my successor later today. But now the youngest queen has called in her two favours that I granted her some time ago. She demands that I send Rama to the forest and declare that her son is king. Vile woman! Now I see her for what she is! A viper in the nest! If I keep my word to her, as per holy law, I will be guilty of another crime - sending our noble son to the forest. There is no way to win. I have two ways to lose. What must I do?"
And Kauśalyã told him that he must follow the holy law and his conscience, so he consulted the wisemen and seers, and the way was clear to him: he must keep his promise to his youngest wife, and banish Rama to the forest for 9 years, while announcing her son as successor. And therefore he had no choice but to call Rama to his chambers and give him the terrible news. He sent his charioteer to fetch Rama, who was with his friends, preparing for the coronation. He hastily returned to the palace to meet his father and mother. Immediately he entered the room he saw his father's face was looking ill, and his lip was trembling. He was unable to speak.
Jana
"Father, what have I done to cause you such displeasure?" asked Rama.
His father was unable to speak, and so his mother spoke in his place.
Jana
"Dear son, you have done nothing wrong, but your father is overcome with grief. You are so dear to him that his lips cannot tell you what has happened. Today was supposed to be a day of rejoicing. He woke up this morning, intending to announce that you are to be his successor, the next king. But before he could put his plans into action, Queen Kaikeyi came to him and asked that he grant her two favours that he promised her long ago. He, innocent man that he is, expected her to ask for playthings or jewels or clothes, or perhaps a pet bird. But she showed her true colours and made an evil demand - that you, dear Rama, tiger among men, be banished to the forest for nine years. For her second favour, she insists that her son, your brother Bharata, be made king in your place. This is why your father cannot speak. He is struck dumb with grief. He has begged his wisemen to find a way out of this dilemma, but they cannot. Holy law demands that he keep his word. And so now, he must banish you, his dear son, to the forest."
Rama was not angry. He did not argue. He did not curse the younger queen who had deprived him of the kingship. Instead he said:
Jana
" The way is clear. My father must keep his word. For his sake, I shall gladly obey and retire to the forest. And I have no concerns. My brother Bharata is noble and pure of heart. He will make an excellent king. My only concern is for my wife Sita, who will be lost without me. Mother, you must take care of her while I am away."
Jana
"I shall my son," said his mother. "I promise to look after Sita as if she were my own daughter."
And without any further ado, Rama left calmly and peacefully, to return to his quarters and prepare for his journey into the forest.