3, Uncle Christmas – the Great Christmas Race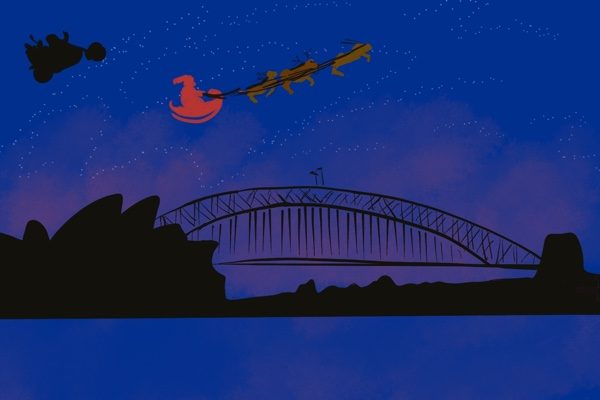 Uncle Christmas is based on a character invented by Wicked Uncle, home of brilliant presents.
The Great Christmas Race
The 3rd Uncle Christmas story, written by Bertie and read by me, Richard Scott, for Storynory.
Uncle Christmas is based on a character created by Wicked Uncle, the world's most brilliant online present store.
Story by Bertie.
Read by Richard.
Proofread and audio edited by Jana Elizabeth.
Just before noon, the contestants in the Great Christmas Race lined up in the runway in front the secret Ice Palace. Uncle Christmas sat astride his magic motor trike, letting the engine gently turn over - - chug chug chug. Every now and then he glanced impatiently at the time on his mobile phone. Bjorn the purple Elf was checking all the harnesses of the A Team of Reindeer that was to pull Father Christmas's oldest and best sleigh. It was the same sleigh that he had used to chauffeur Thor to his wedding.
But the recently awoken reindeer were in a grumpy mood. "Every year Christmas starts earlier and earlier," grumbled Dasha. "Shops will be putting up festive decorations in August before too long."
"How are we supposed to race?" moaned Prancer, "unless we've had a proper breakfast? That handful of magic oats wouldn't make a snack."
"Too right," agreed Vixen. "Racing my hoof. What's got into the boss? Is he having a midlife crisis?"
At 12.29 local time, the contestants were under starter's orders.
The first race was to Sydney Harbour Bridge in Australia, heading West around the world via Mexico. At 12.30 on the dot, Dusty waved his red pom-pom hat and they were off.
The reindeer cantered down the runway and into the pale blue sky, but Uncle Christmas on his trike had taken off vertically, fired by his magic jets, and sped ahead of them. He was already a dot on the horizon where the frozen sea met the sky.
Father Christmas called out:
"Now, Dasher! Now, Dancer! Now, Prancer and Vixen!
Come on, Comet! Come on, Cupid! Come on, Donner and Blitzen!
To the top of the world, at the sound of my call!
Now dash away! Dash away! Dash away all!"
"Count me out, I'm not dashing nowhere," replied Cupid. "My harness isn't comfortable. I told Bjorn it was tight, but he was in too much of a hurry to get us on our way."
"This is not the time for complaints!" shouted back Father Christmas. "One more moan out of you lot and I'll give you away to the giants!"
The reindeer knew well that the giants had no reputation for kindness to animals. They worked their way up to a gallop, but still they weren't closing on Uncle Christmas and his trike.
Uncle Christmas, meanwhile, was enjoying himself tremendously. He couldn't help chuckling as he looked back and confirmed that his rival was not even in view. And now the air was getting warmer and he was growing ever more confident of an easy win.
As he was crossing Mexico he looked down and saw an enormous wave coming into Berogo Beach.
"Just in time to catch that," he called out gleefully, and he pointed the bike down to the sea…. but oh no! As he was about to make contact with the white horses of the wave, he realised that the wheels had failed to retract. The undercarriage was supposed to put down a surfboard, but then he remembered, "Drat! I left it in the garage back home." And a moment later - glug glug glug - he went straight under the wave and before he knew it, he and his trike were being dragged helplessly along the bottom of the sea by a swirling current. By the time he reached the shallows, and staggered out of the water, he was covered in bumps, bruises, and cuts, and what was worse, his trike had lost a wheel and its exhaust pipe was twisted into a knot and the handle bars were dangling loose from the front.
A surfer came running over to see if he needed any help: "Hey, are you ok mate?"
"No, I'm not," replied the soaked Christmas Viking. "I've got to get to Sydney in the next ten minutes or I'm done for."
"That's some wave that will get you to Bondi beach in that time," replied the surfer.
Fortunately, Uncle Christmas was a half decent mechanic. He found his magic spanner in his back pocket and set to work on his wrecked trike, first of all fixing the wheel. It took all his strength to untangle the exhaust pipe: a feat which amazed the onlooking surfers, and before too long he was hurtling down the beach and taking off back into the sky and the race. But as the nose of his trike pointed upwards he caught sight of an unwelcome vision. Father Christmas and his sleigh were in the lead. The reindeer were finally in their stride. Uncle Christmas opened up his throttle but the bike backfired and stalled. As he fell backwards towards the sea, he struggled to get it restarted, just succeeding in the nick of time to avoid a second dipping.
In short, Uncle Christmas knew he had lost the race, and lost it badly. By the time he stuttered onto the Sydney Harbour Bridge, Father Christmas and the reindeer were tucking into the magic mince pies that they had brought as a snack.
"Ho, ho, ho," said his brother. And each 'ho' felt like a blow to Uncle Christmas's stomach.
The second race was due to start in just under an hour. This time Father Christmas was kept waiting while a team of Ozzie elves fixed Uncle Christmas's trike. When the machine had been checked over for anything that could possibly go wrong, the two brothers restarted the race on Bondi Beach. They took off and continued their circumnavigation of the world, this time heading towards Africa, Europe and Italy. This leg of the race was due to finish in the Colosseum of Rome. They both knew that if Father Christmas and the reindeer got their first, it would all be over. He would have won the best of three, and the final leg would just be for fun.
It might be the case that Father Christmas, whom everyone knows has a kind and generous soul, held back slightly. He did not want to crush and humiliate his brother. Winning would be good enough for him. Whatever the truth of the matter, Uncle Christmas arrived first by a whisker. Unfortunately, what the brothers had failed to notice, was that they had not only sped around the world, but ever since Sydney, they had been travelling backwards through time. When Uncle Christmas landed in the sand of the Colosseum, he heard an enormous cheer go up. He looked around him and saw that every seat of the great stone circus was filled. He glanced over his shoulder and saw Father Christmas coming into land.
"Hey, look out!" he shouted, because a hungry lion was bounding towards his brother with a look on his face that said, "Yum, yum, reindeer and two fat old men for lunch."
The brothers took off so fast that the Emperor wondered what he had done to displease the god Apollo whom he thought had landed briefly in his chariot before leaving immediately.
With the score standing at one all, the final race was to be the decider. You might ask, where else in the world could they go? They had both asked the same question, and decided that the moon would make a fitting final to their contest.
This time they launched their vehicles from the top of the sleeping volcano, Mount Vesuvius. Up, up up, they shot, both faster than ever. They broke through the Earth's atmosphere, neck and neck, with enough g-force to make even two old Vikings feel like bringing up their mince pies. Now they were both hurtling through space towards the Earth's single, mystical moon - the source of all magic on our planet. It was always going to be a close race.
"Onward, onward," shouted Father Christmas, with a rare crack of his magic whip.
"Trike don't fail me now," called out Uncle Christmas as he shot silently on in space mode.
But the fact was that Rudolf, the chief reindeer, was built for strength more than speed. In the old days he had pulled the sun through space. Back then he travelled at a stately pace, measuring out the hours.But Uncle Christmas's trike had been made in the space age. It was designed to get to other planets and back fast, before its rider had time to get bored. In short, he won the final and deciding race - touching down in the Sea of Tranquility on the moon a whole 15 nanoseconds ahead of his famous rival.
Father Christmas knew that he had lost fair and square, and he congratulated his brother on his victory with characteristic generosity.
At length he said, "But tell me the truth now, you don't really want the hassle of delivering all those presents, do you?"
His younger sibling slapped him on the back.
"I sure do, bro," he said. "I'm looking forward to it."
And that was 'The Great Christmas Race', read by me Richard Scott, for Storynory.com.
What do you think? Now Uncle Christmas has earned the right to deliver the Christmas presents, will he make a success of it? Listen out for the next story soon. And I would just like to give a big shout out to our friends at Wicked Uncle, the world's most brilliant online toy shop that started in the Uk, and is now doing business in the USA. They have an amazing selection of toys and gifts that kids actually want. Wicked Uncle are kindly sponsoring our Christmas Writing Competition. Send us a story about the best or worst present ever. But first be sure to check out the competition details on Storynory.com.
For now, from me, Richard, at Storynory.com, thankyou for listening. And goodbye.