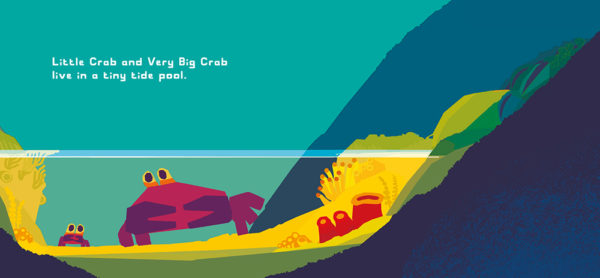 Don't Worry Little Crab by Chris Haughton
Published April 2020
A Storynory book recommendation sponsored by Candlewick Press.
Excerpts and illustrations by permission of Candlewick Press.
Hello, this is Bertie, and I'm dropping by to recommend a delightful book published by the wonderful Candlewick Press who are kindly supporting Storynory.
It's called Don't Worry Little Crab by Chris Haughton, and it's a picture book that will enchant younger readers.
Little Crab and Very Big Crab live in a tiny rock pool near the sea. Today they're going for a dip in the big ocean. "This is going to be so great," says Little Crab, splish-splashing and squelch-squelching along, all the way to the very edge. Then comes a first glance down at the waves. WHOOSH! Maybe it's better if they don't go in?
Chris Haughton's illustrations are clean and modern, and the characters, Little Crab and Very Big Crab are funny and engaging, but what I most love about this book are the gorgeous marine colours - wonderful, vivid turquoises, greens and blues.
This is a story about a young character being brave while being gently supported by a parent to take a small step that seems enormous. I think that all of us humans can relate to this the little crab's first venture to the Ocean
Sound of the ocean
The waves are huge and they are getting bigger and bigger !
Hold on tight here it comes !
WHOOSH!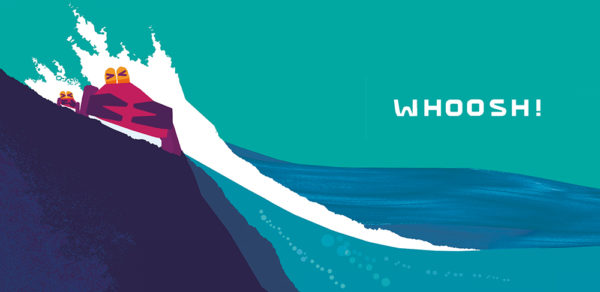 But when they are under the water, everyone comes to see them. And by everyone I mean so many gorgeous colourful fish and creatures of the ocean.
I do hope that you will love Don't Worry Little Crab by Chris Haughton as much as I do. It's out on April 7th 2020 and is available from all good bookstores, both offline and online
I'll be back with a story soon,