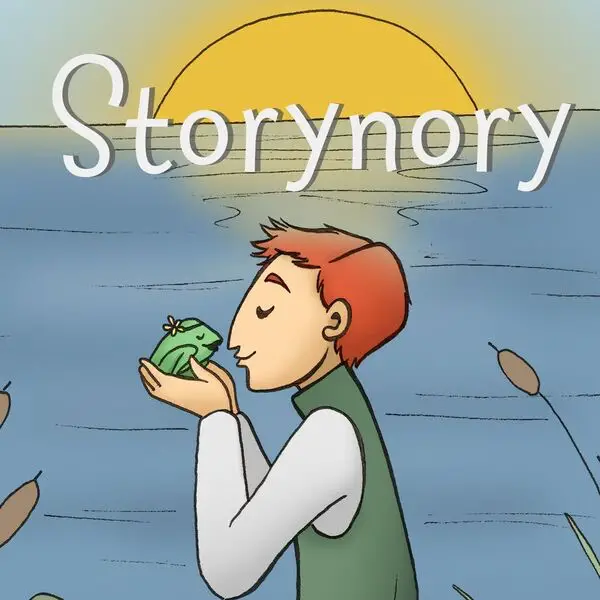 (Download hi-res image of our logo for fair use in media reviewing Storynory)
Overview
Storynory has been giving free audio stories to the world since November 2005. We are a podcast and a website with audio streaming. Some months we serve around a million downloads of our mp3 files (stored on Libsyn). All our content is free.
We aim for our audio stories to showcase imagination, good writing, and great narrations.
This is what
The Sunday Times said about us on December 25 2017
:
Like Jackanory, but on iTunes instead of television. The atmosphere of this is a world away from the frenetic air of many other children's offerings, replete with bells and whistles and "fun" sound effects. Instead, this is storytelling as Homer used to do it: one person, telling a story with the special effects that used to be known as 'words'. You can almost hear the narrator settling into their armchair by the fire as they begin telling some of the best-known stories from history. Aladdin, Alice's Adventures in Wonderland, Baba Yaga . . . they're all here. If Aesop were to make a podcast, it would sound something like this.
We are also starting to produce more factual content including history and interviews. The aim of our factual programming to stimulate a curiosity about the world, and the ability to think critically.
We have over 600 audio stories on the site. If you are stuck where to start, here is a handy guide.
Read Morgan Hines' interview with Bertie (Hugh Fraser) for Discover Pods
Some older kids, perhaps even as old as 20, tell us they have been listening for years and grew up with Storynory and owe a love of literature or the spoken word to us. Those are the messages we cherish.
Our original stories are written in-house (mainly by Bertie aka Hugh Fraser), and read by professional actors.
High Quality Audio for Families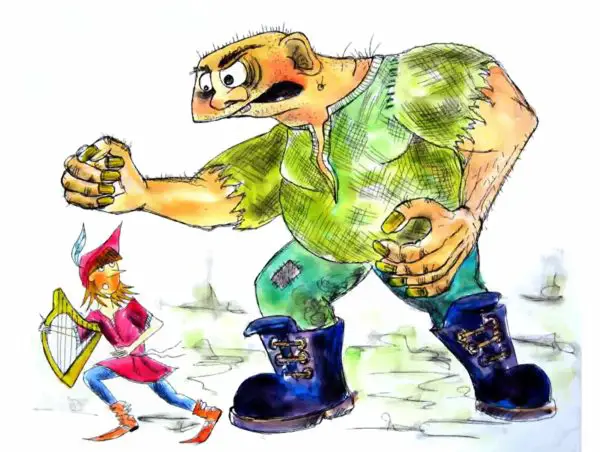 Jack and the Giant image by Sophie Green, for Storynory. Hi Res image here for fair use in reviews of Storynory.

We are a low budget, independent podcast - but that does not stop us aiming high. We have pedigree.
Bertie studied classics (Ancient Greek and Roman History, Philosophy and Literature) at Oxford University, lived in Russia (and speaks Russian) and worked for 12 years as a producer on BBC Radio.
Our actors have masters in Classical acting from London's prestigious Central School of Speech and Drama.
We also present a new factual programme called 'Jana's Studio' and original music, much of it sung in the sweet tones of our own Jana Elizabeth.
Original Stories
The most popular of our original series include our Katie stories (about a girl who goes to an ordinary school, and has ordinary friends, but is a witch with magical powers), and Astropup, about a space travelling dog and his friend, a megalomaniac parrot. We have many other popular strands.
Who is Bertie?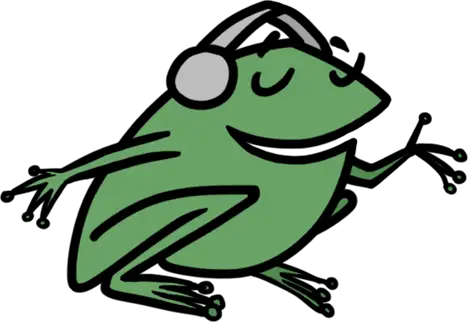 Bertie is the both the hero of our Bertie stories about a modern day prince who blunders through life, and the nom de plume of our writer, Hugh Fraser. The fictional Bertie spent part of his life as a frog (hence the frog logo).
Branching out into factual programmes
We have long been known for our Greek myths and recently we started our Herodotus series covering the history of ancient Greece, Persia, Lydia, and Egypt. Part of the aim of the series is help kids build critical skills to make informed judgements about what is true and what is not.
Our editor, Jana Elizabeth has a strand, "Jana's Studio" in which she interviews fascinating people about fascinating topics.
These two new factual series are indicative of Storynory broadening its vision to be an educational service.
How we produce our stories
In short, it takes a lot of time. Bertie spends a day (sometimes two days) writing the story. Jana proofs the writing. Our actors do their homework preparing and prepping the narration. We usually record two or three stories in a session lasting approximately one and a half hours. Either Jana or Bertie records the session. The audio then has to be edited - (usually by Jana) taking out all the stops, starts, retakes, and pauses for the London Underground to pass underneath our studio (rumbling our microphone). Often we spend more time adding music and sound effects - this can take half a day or so. We also need an illustration which we commission from an artist (when we have funds) or licence from a library such as Shutterstock or, as is often the case these days, Bertie draws a picture. Finally we upload the audio to Libsyn which hosts our audio and publish the story on WordPress.
Audience
Our audience comes to us via the website and via the podcast which can be picked up on iTunes or podcast catcher apps such as Stitcher or Podcast Addict. Sometimes we have a million downloads in a single month. Almost 50% of our audience is in the United States. Around 10% is in the UK. Canada and Australia provide around 5% each of our downloads. Other significant areas for us (around 2.5% or so of downloads) include India, Japan, Korea, and Vietnam. In many countries people listen to our stories to help them with their English language skills.
Many of our most generous listeners in terms of financial support come from Australia and New Zealand. Americans are also very generous !
We think that America provides the biggest portion of our audience because it has lots of people, there is greater awareness of podcasts in the USA than here in the UK, homeschooling is more popular in the USA than the UK, and there are more long car journeys in the USA and a need to keep peace and harmony on the backseat which all parents will recognise.
Target Age Group
Most of our stories are aimed at an age group around 7 to 11 years. However, we do have some stories nursery stories and rhymes for preschool, and some quite sophisticated stories. Our Herodotus histories are probably the most challenging series on the site. We know that older children and adults enjoy our stories, and we receive messages from young people who say they have grown up with our stories and still listen !
Feedback
We have a lively comments section on each story page which works on a first name only basis to ensure children's privacy - our editor Jana Elizabeth moderates the comments before they are published.
Writing Competitions
We run popular writing competitions in which we ask our young audience to send in their own stories. We usually pick three of the best to read out on Storynory and sometimes offer other prizes from sponsors.
Press Coverage
We have received mentions in many publications including The Telegraph, The Sunday Times, The Washington Post, The South China Morning Post, and The Wall Street Journal which said about us as long ago as 2007:
For bedtime stories, just press play
Business Model
Our stories are free to use in homes and schools, and but we charge a reasonable annual license fee for use in commercial apps.
Our business model has been mainly based on advertising - mainly through AdSense. It has to be said that changes to the Children's Online Privacy Protection Act has made this a lot tougher (we think with zero real-world gains for kids).
We are not keen on carrying advertising spiel on the audio - as we think it fits badly with children's programming (by being over-long, annoying, distracting, often irrelevant, and detracting from the programme's authority) - but we will consider a succinct sponsorship slogan such as "brought to you with the support of .... ".
We are also open to carrying out writing and / or recording projects with third parties (and example being our Uncle Christmas series ) and licensing our IP to other media.
We do require support, and we are grateful if you can donate via Patreon.
More Information
Please contact Hugh Fraser aka Bertie for more information on [email protected].