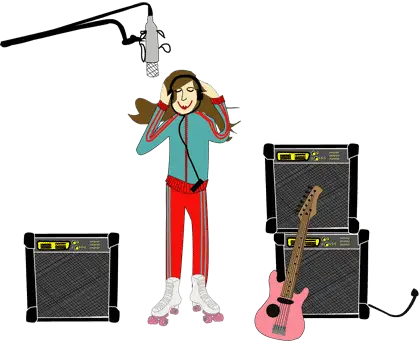 Click picture to enlarge
If you heard the first part of our Girl Band story, Gladys and the chix, you'll know that Gladys has three sisters who have formed a band and want to be famous. Gladys isn't in the band because they say that she's too young and too geeky. But she thinks that her sisters need her, because she's the brainiest.

Story by Bertie.
Read by Natasha. 
Proofread by Jana Elizabeth.
Picture of Laura for Storynory by Tania Fernandes
One Saturday morning, Mandy and Laura were sitting around the kitchen table drinking coffee and having an argument. Mandy thought that she ought to be the leader of the chiX, because she was the oldest, and more importantly, she was the best at getting things organised. Laura thought that she should be the leader because she had friends in the music business.
"Kevin isn't in the music business," said Mandy. "He's just a loser who sweeps up in a recording studio."
"That's just like you," said Laura, "You won't give anybody any credit unless it's yourself. Kevin's a studio producer and a musical whiz-kid."
"Well just because you met the guy at a bus stop doesn't mean that you're a musical genius too," said Mandy.
"Yeah, but I've got contacts. Besides, Kev said I've got a great voice."
"Yeah, but Kev says that to all the girls. Besides, what this band needs is somebody to call the right shots and make the right decisions."
"Exactly, that's why I should be leader," said Laura, "because I know more about the music business than you do."
Mandy pointed out that she was the one who had set up their web page on Myspace, and that Laura had been promising to ask her friend, Kev, for a recording session at his studio for two weeks now, and she still hadn't fixed it.
Laura said that was because Kev was super busy recording lots of big stars, and he was fitting them in for free as a special favour for her. Still, she decided to give him a prompt. She took out her mobile phone and sent him a text message:
"Hey whiz-kid. Got time yet to give three gals a helping hand?"
And Kev texted back:
"Sure, next week's looking good. Come over Tues."
So the chiX had their first recording session set up for three days' time. When Gladdy heard, she pointed out that they didn't have a tune for their song, let alone any backing music.
"That's Kev's job," said Laura. "He just presses some buttons on his recording desk and pulls some levers. He's a genius at that sort of thing. He even made the Diamond Girls sound half decent."
Gladys tried to imagine the chiX turning up at the recording studio and asking Kevin to do everything for them. She thought it sounded a bit unlikely that he would just say: "Sure girls, here's a number one hit single that I just wrote yesterday especially for you."
"If it was that easy," she said, "everyone would be stars."
"Yeah, but not everyone is mates with Kevin," said Laura. "Besides, not everyone's got star quality like the chiX."
After school on Tuesday evening, the girls took the train up to London. Gladys came too, because although she wasn't in the band, somebody had to look after her as she was still too young to be on her own at home. In fact, Gladys knew that she could look after herself better than the sisters, but that was how things were. When they got to London, they took the underground train to the station called Goodge Street, which Laura said was in the swanky part of town. In fact, when they got out it looked pretty grotty to Gladys. Keven's studio was on the fifth floor of a tall office building. It was about the size of their bathroom at home.
Gladys watched how he kissed all three of her older sisters on both cheeks. He didn't seem to notice her at all.
"Well, what have you got girls?" asked Kevin. And Laura showed him the words that Gladdy had written.
"Nice," he said, when he had read them, "and what's the music?"
"Ah right," said Laura, "we were kind of hoping that you'd help us out with that bit. Seeing as you're such a whiz-kid."
Kevin blinked. Gladys could see that he was trying not to look too surprised.
After a pause he said: "Right girls. Go behind the soundproof glass and put some headphones on. I'll play you some loops, and we'll see if we can build up a sound just for you."
Gladys knew that loops were some drum beats and other bits of music that were already recorded on the computer. They were called loops because they went round and round, and when you got to the end of say 30 seconds, the music started at the beginning again.
She had been experimenting with some loops at home, and she had also been recording some music of her own using an electronic keyboard. After she had put the notes onto the computer, she could make them sound like almost any instrument.
Kevin pressed a drum beat.
[Music plays]
"Too grungy," said Laura through the microphone. "The chiX are kind of a bit funkier than that."
So Kevin let them hear something a bit more polished.
[Music plays]
"Not really," said Mandy. "The chiX are kind of a mix of different musical styles and influences, if you see what I mean."
"Yeah. Find us something that's just right." said Sam.
So Kevin looked at the computer and scrolled through a few more tracks until he found one thing he thought they might like.
"How about this one girls?" he asked.
[Music plays]
"Yikes! Are you sure your mate knows what he's doing?" asked Mandy to Laura. She didn't realise that the microphone was switched on and Kevin could hear her. Gladys thought she could see hot steam coming out of his ears.
She said: "Ah-hum, Kevin. The girls were just shy about saying they've got some music. I brought it here on this disk." And she handed him a CD with the music she had made at home. Of course, the other sisters hadn't heard it.
Kevin put the CD on the player.
[Music plays]
The sisters heard the music through their headphones and started to groove about.
"Yeah, that's more like it, Kev," said Laura. "We could do something with that."
Gladys smiled to herself. She decided it would be better not to tell them yet that it was her music that they liked.
She started to help Kevin mix in some more music into the track.
"Hey Gladdy, leave Kevin alone and let him get on with his job," said Mandy. But Kevin replied that he was alright about showing Gladys how his mixing desk worked.
Much later that evening, after quite a few tries, the ChiX made the first song of their career. And though they didn't know it yet, the music was written by Gladys with only a little help from Kevin.