Halloween Writing Competition
Massive congratulations to Annora S,  aged 14, who lives in the foothills of the Himalayas, Madison Horrocks aged 8, and Sidney Averett aged 7 who is an American living in Saudi Arabia.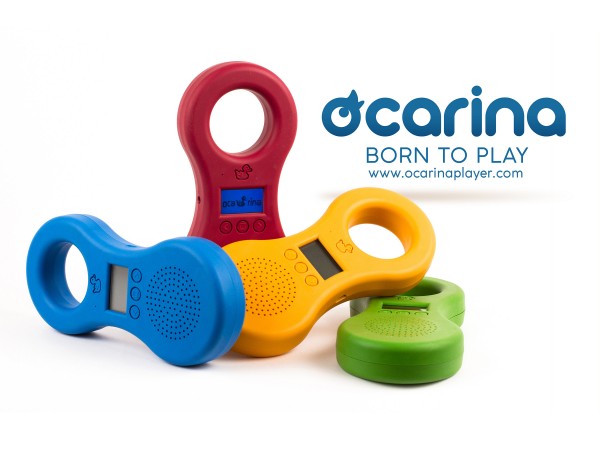 And thank you to Ocarina for providing the prize, a fantastic mp3 player.
Read by Emma Ballantine.
Introduced by Bertie and Jana.
Hello, This is Bertie. You don't often hear from me, but I'm dropping by to introduce our three wonderful winners in our spooky Halloween writing competition, sponsored by Ocarina, the kids MP3 player. It's been incredibly hard picking the stories to read out as we had almost 50 entries from all over the world, and all of them were excellent. Thank you so much for sharing your hard work and imagination.
And thank you to Ocarina for providing the prize. We visited Ocarina in the Fabulous Italian city of Florence, where they are based, and we know how passionate they are about kids growing up with music and stories. They've created a high quality and durable mp3 player especially for children - and it comes preloaded with some of our stories. One lucky winner will be receiving their own Ocarina.
We are starting with a zany take on Halloween by 8 years old Madison Horrocks
And our newest narrator, Emma Ballantine, is here to read it for us.
Thanks Madison. We loved the galaxy of weird and wonderful characters. Now for something completely different. This story is by Sydney Averett aged 7 who is an American living in Saudi Arabia.
And thank you Sydney for that original and sweet story. It's such a lovely idea that pumpkins feel honoured to be carved. And I'll just give a special mention to Sydney's brother Cameron, who sent us a highly amusing story featuring our own Astropup - Sorry Cameron, and everyone else who entered but did not win. We can only read out three stories tonight, but we did enjoy all of them. What a talented lot you are!
Now our final story was written in the foothills of the HImalayas and is one of several that we received from India. In fact, although our audience in India is not that big, we do find that some of our keenest listeners come from there. All the Indian entries were very impressive indeed but we thought this one won by a whisker. I think you will agree it is very well written. All we know is that the author is called Annora S and that she grew up listening to Storynory.
And thank you Annora for that very accomplished piece of writing. And I would also like to thank Smart Girl who comes from India and leaves loads of comments on the site. We really appreciate your input.
Ok, so who should receive the mp3 player? I'm going to ask Storynory's Jana what she thinks:
Well Bertie, I found it very rewarding reading through all of the entries. It was so hard to choose because they were so incredibly good. I think in the end, my personal favourite was Annora's 'Maya and the Mirror' which had a touch of Harry Potter about it. But I also think that the MP3 player is best suited for a younger listener, and I thought Sydney's story about Lilly the pumpkin was so incredibly sweet and original - so let's send it to Sydney in Saudi Arabia - well done Sydney!
And also well done to Madison, our other winner, and to everyone who sent in such fantastic stories, you've all got so much tallent.
And I would also like to add that I really love reading your comments on Storynory, and I try to answer as many as I can.
And if you didn't win this time, start getting in a Christmassy mood, because our next competition will be based on the end of year festivities.
For now, from Storynory ~ Happy Halloween!