You can listen to Bertie's free audio stories in all sorts of ways. You can play them on your computer, transfer them to your iPod, burn them to a CD, and even subscribe to our feed so that stories download automatically each time we publish.
Podcast
Our podcast feed provides a number quick ways to download our stories in bulk and keep up to date with our weekly publication. Please visit our podcast page for a selection of options for catching Storynory's free podcast. We have a help page for using iTunes to download our podcast.
Find Stories
Storynory publishes at least once a week and we have an extensive archive of children's stories which you can sift by category.
Listening from our web pages
If you have headphones or speakers on your computer, you can listen instantly by pressing the audio button on each story.
Download Stories to your Computer to Keep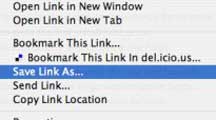 Each story we publish comes with a "download audio" link such as this:
Download the audio of Lazy Jack
In Windows, click the link with the right button of your mouse, and choose "Save Link As" or "Save Target As". The audio file (mp3) will download to your desktop, your downloads folder, or any folder you choose.
If you use a Mac, a quick way to download is to press the Option Key (the key that also serves for "alt") and click.
Depending on your computer's set up, you will see something like the menu in the picture - and you should be able to choose where to save the file. Perhaps it's best to save it on your desktop initially.
Burn to a CD
If you have a CD writer on your computer (most modern computers do), then you can burn our stories to blank CDs.
There are a number of free programs that will do this for you, including Microsoft Media Player, RealPlayer, and iTunes. The chances are that you already have one of these on your computer. The basic principles are the same for all these programs.
Make sure that the stories you want to burn are in the library of your player.
Create a new Play list.
Drag the tracks you want to burn from your library into the play list.
Insert a blank CD in your computer.
Press the Burn button in the menu.
Sit back and wait.
The CD should play in a normal hifi or on a computer.
For detailed instructions see the following:
Media Player,
RealPlayer
iTunes (more in help file of the program)