Jana's Studio: Interview with Richard Scott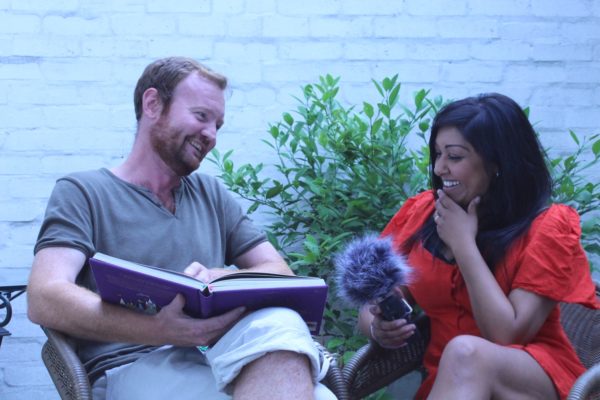 Jana sits down with Storynory's Richard Scott. Richard has been telling us stories, sometimes putting on the voice of Astropup, but we have not actually introduced him properly - until now. In this lively and funny interview, Jana chats to Richard and practices vocal warm-ups and tongue twisters with him. They have loads of fun!
Interview with Richard Scott
Hello, and welcome to Jana's studio, where I talk to fascinating people about fascinating things.
In this episode we're going to peek behind the scenes of Storynory and meet our very own, Richard Scott. Richard has been working with Storynory for the past 10 years and is best known as the dogged voice of our space travelling hound, Astropup. You can also hear his spellbinding tones on many of our fairy tales, and our Wicked Uncle series. And I think he's particularly skilled at reading poems, which include some of my favourite pieces of audio on Storynory. Richard studied at Cambridge University, before doing a year's course in Classical acting at London's Central School of Speech and Drama.
Here is a clip of Richard as a contestant in Pointless -

Jana - Hi Richard, thank you for joining me today.
Richard - Hi Jana, thank you.
Jana - So Richard, can I begin by asking you what prompted you to become an actor?
Richard - It really started at secondary school for me - I got cast in some big parts in the school plays and developed a real love for learning lines and acting on stage. When I then moved on to university, I had the "acting bug" and tried to do at least two plays each year. I was lucky enough to act in some great theatres in Cambridge and even go up to the Edinburgh Festival twice. The second time I played "Peter Pan" for the whole month of August. It was great!
Jana - Did you do any acting when you were growing up?
Richard - I have two younger brothers so we were always making up our own plays...and getting our teddy bears involved...and then performing the plays to our parents. At primary school, my first acting role was as an Oompah Loompah! They painted our faces with paint from the Art room and it didn't wash off for a week!
Jana - Aww wonderful. Charlie and the Chocolate Factory is actually one of my favourite films.
All of our listeners know you have a range of amazing voices including a dog, a parrot, children, adults. How do you create those characters and voices?
Richard - I owe a lot to Bertie. He writes the stories and creates the characters and then sends me the stories. The characters that he creates are so vivid and imaginative that I feel I have to do them justice and give them a voice that reflects Bertie's great writing. I love reading the Parrot in Astropup but I'll let you into a secret - it's not easy! He is so squawky that I sometimes get a sore throat afterwards!
Jana - Ooh I'm sorry about that. I never knew… Oh the joys and perils of bringing great stories to the world!
Bertie and I see you read the stories behind the microphone, and you always seem very well prepared - how much preparation do you put into a story or a poem?
Richard - Preparation really important. I need to know what I am saying as I read the stories but also know what I am about to say next. To me, great storytelling is not only painting a picture of what is happening, but it is also expressing the emotion of what I felt when I first read the story.
Jana - Of course, yes. Do acting skills help you in other parts of your life?
Richard - Definitely! It helps massively with confidence. When you are fully prepared to read a story or about to go on stage with all the lines that you need to remember in your head and you're basically about to transform into a different character. If you can handle that, then you can definitely handle anything life throws at you.
Jana - Wow… well you haven't given birth yet.
Jana - Richard, what's your favourite story on Storynory?
Richard - That is such a tough question, Jana! I have read so many stories, myths and poems over the past 10 years for Storynory that it is not easy to pick a favourite. Of course, Astropup is very close to my heart and I get so excited when Bertie sends me a new Astropup story and I get to be the first person to read what is going to happen next in the series. That is very cool. If I had to pick a favourite then it would be between 'Orpheus and the Lyre', written by Bertie and 'The Cat that walks by himself', by Rudyard Kipling.
With 'Orpheus' , Bertie changed the Greek myth to a rhyming poem. It is such beautiful writing and it is so sad and romantic that I think I can admit that I can't listen to it without getting a tear in my eye by the end.
"The Cat that walks by Himself" I read almost 10 years ago when my cat, Snufkin, who I miss very much was only a kitten. It reminds me of her whenever I listen to it. It is such a brilliant 'Just So' story that I recommend you listen to it if you haven't already….I am also very proud of my bat voice in it. The bat only makes a very short appearance so listen out for him!
Jana - How lovely! I'll make sure to listen to 'The Cat that Walked by Himself', in honour of Snufkin!
Jana - Do you get nervous when you perform?
Richard - I do get nervous more so before I go on stage because there's always the safety net when recording that when I do make a mistake we could always go back and record it. But the most nervous I've been was actually before I had to go on tv. I was on a quizz show, and the presenter asked me not only to do an impression of Astropup, but to actually read one of the questions in the voice of Astropup. That was extremely nerve wracking. I actually think Bertie's got a clip of it somewhere on YouTube. Maybe he can post it up.
(voice of Alexander Armstrong and Richard)
Alexander: Thanks very much indeed, Richard ! What do you like to do, Richard?
Richard: I like long distance running and I read stories for a website that produces free children's stories every week.
Alexander: That's fun, do you do it every week?
Richard: Not every week. About once a month. But I read the stories, not in my own voice, but in the voice of a dog.
Alexander: Two things, two things, actually, three things. No one told me about this job.
Assistant: Is there a voice over you're not doing?
Alexander: Allegedly yes.
Assistant: That's extraordinary. That's thing one .
Alexander: Ok, so thing two, what's the dog called?
Richard: The dog is called Astropup. He's a dog who likes to travel in space and time.
Alexander: Thing three.
Richard: Yes,
Alexander: What's he sound like? Read the top clue in the voice of Astropup.
Richard: A near instant cooker patented by Percy Spencer in 1945
Audience: Applause .
Jana - Wonderful!
So Richard, how important is good diction and pronunciation in acting?
Richard: Extremely!
Jana: I understand you warm up your voice before recording a story. So for our aspiring actors and public speakers out there, here are a few vocal exercises we'd like to share with you. These exercises are actually called tongue twisters. There are a whole range of exercises you can do depending on what you're using your voice for and especially helpful if you know your trouble spots. And for those of you listening at home do feel free to join in.
Richard: So jana, you repeat after me…
Many Mincing Maidens meandered moodily moorwards
Jana …
Richard - A pale pink proud peacock pompously preened its pretty plumage
Jana…
Richard - Betty bought a better bit of butter but the butter betty bought was bitter
Jana …
Richard - She sells sea shells on the sea shore - good for s's
Jana …
Richard - Peter piper picked a peck of pickled peppers.
Jana...
Richard - And this is a tricky one! The sikh's sixth sick sheep is sick.
Jana…
Thank you Richard. That was fun.
And lastly would you like to read your favourite sonnet for us?
Richard - Yes I would love to. It's one of my favourites and also my mums favourite.
Sonnet 130 By Shakespeare.
My mistress' eyes are nothing like the sun;
Coral is far more red than her lips' red;
If snow be white, why then her breasts are dun;
If hairs be wires, black wires grow on her head.
I have seen roses damask'd, red and white,
But no such roses see I in her cheeks;
And in some perfumes is there more delight
Than in the breath that from my mistress reeks.
I love to hear her speak, yet well I know
That music hath a far more pleasing sound;
I grant I never saw a goddess go;
My mistress, when she walks, treads on the ground:
And yet, by heaven, I think my love as rare
As any she belied with false compare.
Richard - And Jana, I know how fond you are of Shakespeare's Sonnet 43. This one's for you...
Sonnet 43
When most I wink, then do mine eyes best see,
For all the day they view things unrespected;
But when I sleep, in dreams they look on thee,
And, darkly bright, are bright in dark directed.
Then thou, whose shadow shadows doth make bright,
How would thy shadow's form form happy show
To the clear day with thy much clearer light,
When to unseeing eyes thy shade shines so!
How would, I say, mine eyes be blessed made
By looking on thee in the living day,
When in dead night thy fair imperfect shade
Through heavy sleep on sightless eyes doth stay!
All days are nights to see till I see thee,
And nights bright days when dreams do show thee me.
William Shakespeare.
Jana - Beautiful.. very moving! And thanks again to Richard Scott, for joining me today. It's been a real treat.
Richard - Thank you Jana …Been a pleasure.
Jana -
And as ever, I'd like to remind you, if you'd like to join us on our mission to give a liberal education to the world , you can support Storynory on Patreon. You can find the link on our website
Until next time, take care of yourselves. From me, Jana, and Richard, at Storynory.com.
Goodbye!