Pet Writing Competition Results Part 2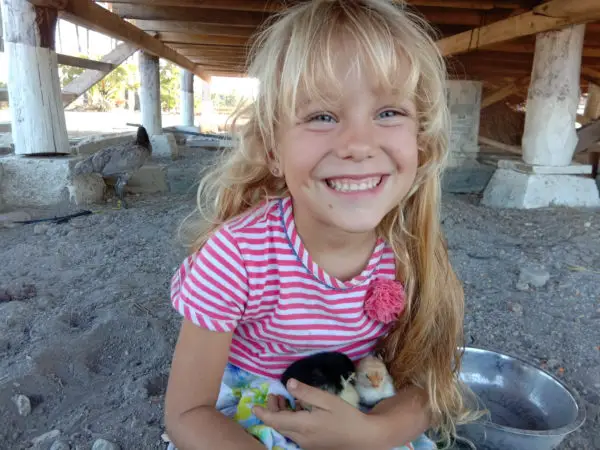 Hello,
This is Jana, and I'm here with part two of our winning entries for our Pet Writing Competition.
We have four very different stories for you!
Well done to:
Sylvia Belcher
Amidala
Paul and Dorothy
Here is a story written by Sylvia Belcher aged 15, from Canada.
She says:
Dear Jana Elizabeth,
Abby was a mixed breed rescue, but our vet thinks she was most likely a border collie lab mix. 
"Heroes Never Start as Heroes."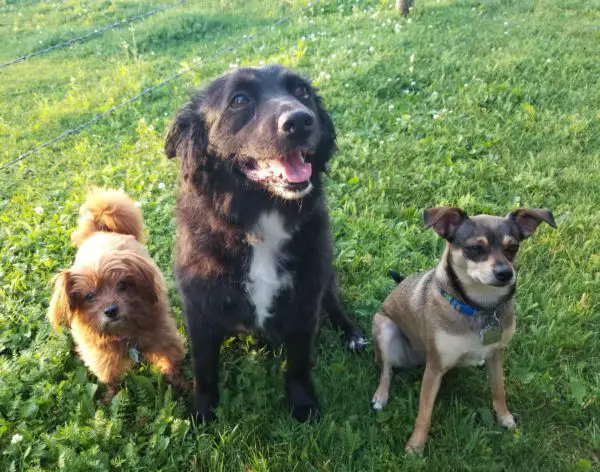 In Abby's case she started as a stray puppy, starving under a set of stairs. Abby and her sister were scared. Their mother was gone and they were the only two left in their family. They hadn't eaten in days and they weren't sure how much longer they would last. They cuddled together for warmth and at last when they thought all was lost, a hand reached under the stairs and picked up the two tiny shivering balls of fluff. One pure white, and one almost completely black. The two puppies were so relieved to come into the warm rescue foundation. For a few weeks they gained their strength and became healthy young dogs ready to find a family. 
 Abby didn't know she was saying goodbye to her pure white sister, but they each went to a different family one night. Abby wasn't sure what to think of her new family. Dad with the huge red beard, Mum with the warmest hugs and two very excited little girls. The youngest, had absolutely no hesitation about jumping on top of Abby. The older girl, who was four, was a little shy, but right away decided that there was only one name for the new puppy: Abby Cadabby, after her favorite TV show character. Mum and Dad agreed, but Abby Cadabby was usually just called Abby. 
 Life went on as it does for dogs for a few years, camping, going on walks, exploring, until Sylvia, the oldest girl turned ten. 
 Mum and Dad had finally decided that Sylvia could get her own puppy. When the new puppy came it was the smallest dog Abby had ever seen: less than two pounds, not much bigger than a hamster, and covered in bright red fur on top of it all. They called her Poppy, and Abby once again had a sister. 
The two of them did everything together: played, snuggled and even shared their humans- most of the time. 
 One day, Sylvia and Dad left, going on a trip to a far-away place called England. Sylvia said goodbye to Abby and Poppy and they were both sad for a while - until Mum said the best word ever, "walk."
 Sarah and Mum took Poppy and Abby all around the neighbourhood. The two of them ran, sniffed and had the best time two dogs could have- until the white truck drove past. Abby had never really thought white trucks were a problem- there were plenty in the neighbourhood- but Abby looked up just as a huge husky leapt out of the window of the moving truck and grabbed tiny little Poppy by the throat. Sarah and Mum were screaming. Poppy was yelping and Abby did the only thing she could do! She jumped into the air, pinned the much bigger husky to the ground and set Poppy free. She saved Poppy's life. When Sylvia got home a week later from her holiday she found out about how Poppy was attacked. She was shocked. When she saw the puncture wounds in Poppy's neck she cried. Sylvia knelt down on the ground and held Abby's face in her hands. She had always loved Abby, but in that moment she was so grateful for her that she knew she'd never be able to thank Abby enough. Sylvia looked deep into Abby's eyes and thanked her with all the love overflowing from her heart. Abby didn't really think what she did was so heroic, but the whole family had never been more grateful for their rescue dog. Abby was selfless in a way that not many ever are.
 But dogs don't live forever and the day came when Abby was ready to move on from this world. Sylvia sat with Abby on the floor one last time, gave her a kiss filled with all the love and gratitude she had ever felt for her, and said goodbye. Although Abby is no longer bound to Earth, she left the prints of her paws on the hearts of all that met her. She was a hero because she saved a life, but she was also a hero because she gave so much love to everyone's lives. Abby started out as an abandoned baby under a set of stairs: but heroes never start as heroes: do they? 
Goodness me, Sylvia. That was very moving!  A really special story about a hero. Thank you!
The next story is written by Amidala, 4 & ½, from Sumba, an Indonesian Island.
She says: My name is Amidala. I'm 4 and a half years old and I'm British. My father is Hungarian, my mother is Brithish-Hungarian.
Her mother Klara says: 
Dear Jana,
Amidala would like me to send you a photo of her new baby chicks.
Her hens have had 17 chicks in total. She is over the moon! 😊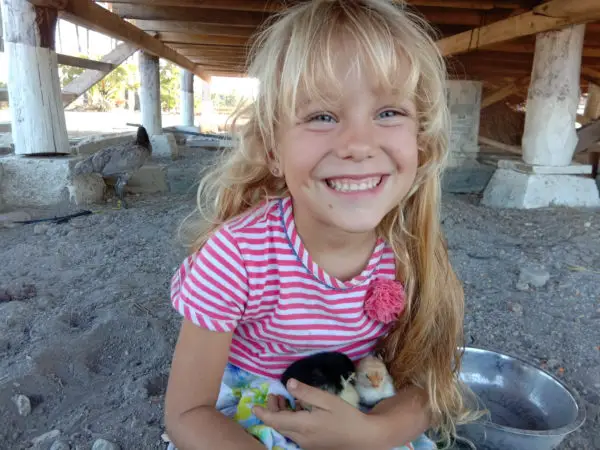 "My Animals."
This story is set on an Indonesian island called Sumba. On the Eastern side of the island, where we live is always summer and it's very dry, like a savannah. In our village people are very friendly and we are part of a close knit community. For my birthday, in February I received two chicks: one from a classmate and another one from my teacher. I named them Chippy and Bundaskenyer. Bundaskenyer is a Hungarian word which translates to French toast. They enjoy the closeness of humans. I often play with them. Once our play was that I took Bundaskenyer to a salon to have her nails done. She looked very posh with blue nails. Other times when I sit outside and draw in the sand or in my book, Chippy comes and sits on my lap. That's how close we are. I really love them and we will never eat them. We don't eat meat because we love animals. They are full of love and affection towards humans if they are treated well.
They have grown into beautiful and healthy hens. They have laid eggs and they have been hatching a total of around 20 eggs for about two weeks now. We have one more week to go before the little chicks are born. I'm very excited to see them.
Apart from the two hens we have two dogs too. One of them is called Peti. He is big already, very smart and strong. My father has taught him well. He is obedient most of the time. He likes to follow me to pre-school even though we tell him not to. He is a very good guard though. He would chase away the cows, horses and goats that enter our property and want to munch on our vegetables in the garden.
The other dog, Nana is still a puppy. He is not very clever. We haven't taught him anything because he wasn't our dog in the beginning. Our worker has brought Nana to our house, saying that he needed company. But the worker has gone to work somewhere else and left Nana behind. We have adopted him recently, but haven't been able to teach him yet, because for a long time we thought that the worker would come back for him. He is actually a naughty dog, because he ate the neighbour's little chick once. I have seen him! It made us very sad. We were considering giving Nana away, because we are afraid that he would eat Chippy's and Bundaskenyer's chicks later. It seemed like the right thing to do in order to protect our chicks, but there is something stopping us...
If we give Nana away, we know that he would not live long. It might be shocking for you to find out, but on this island people eat dogs. Dog are not kept as pets, they are kept for their meat, just like pigs and hens.
Although we are very worried about our chicks, we have decided to keep Nana and teach him instead of giving him away.
Thank you Amidala! Despite Nana being a naughty dog, I'm so pleased you decided to keep him.. He is lucky to have you! You are our youngest winner this time round and thanks to your mum Klara for helping you. 
Our final stories are written by brother and sister, Paul, aged 7 and Dorothy, aged 8. 
Hello Storynory!
I would like to submit the following stories from two of my Korean students. Dorothy and Paul are brother and sister that I tutor. These two are extremely bright students with English being their second language. They also speak Chinese! Both students have been exposed to English since around the age of four. I use various resources in our class and your podcast is one of our favorites. They are very happy to share their stories about their dear dog, Maroo. Please enjoy.
Barb French.
I've decided to ask Bertie to read these stories as the subject matter reminded me of him. And thank you to everyone for sending in your stories about your beloved pets. 
If you weren't selected this time, don't despair. There will be many more competitions from us. Over to you Bertie!
I have a little dog named Maroo. He is 17 years old! He's old but very funny and cute. I like to give Maroo food when my mom isn't looking but he can be picky sometimes. Maroo loves to eat sweet potato. I like to pretend that he's always saying, "Give me sweet potato! Bark!" When we don't have any sweet potato, I think he gets angry. That's why he pees in the house sometimes. He's angry because I'm not feeding him sweet potato! I need to tell my mom to buy more sweet potatoes!
"Who Farted?" by Dorothy.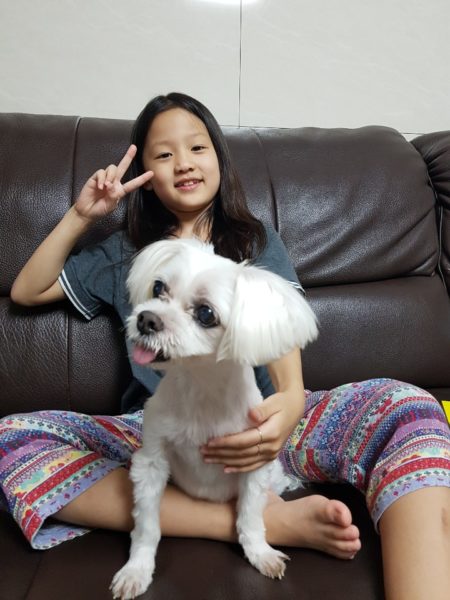 Not to be rude but my dog Maroo always farts. Good morning, fart! Good afternoon, toot! Good night...you get the picture. His farting sound is sometimes loud but luckily not smelly. One day, my brother, Maroo and I were playing in our room. I heard the fart sound and saw my brother laugh. I looked at Maroo and he seemed confused. My brother said to me, "You're gross!" I said, "No, you're gross!" Then we heard the sound again from Maroo's direction. Maroo farted! He's not gross though, he's just old.