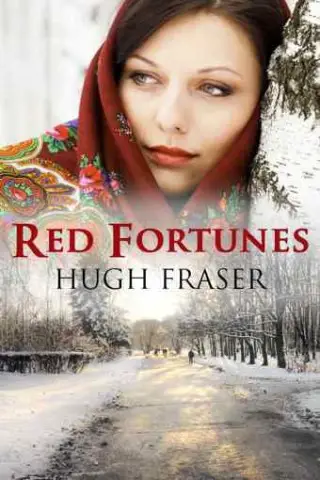 Bertie's novel about Russia for grown ups is free on Kindle for the first 5 days of May 2013! It's also available in paperback.
Hello,
I'm Hugh Fraser. You probably don't know my name, but if you have been listening to Storynory for a while, you actually know me quite well already. If you've listened to Bertie, or Katie, or Astropup, or our adaptations of Greek myths and stories from around the world - those are my thoughts and words - and sometimes even - episodes from my life. In fact I've been working on Storynory since 2005. But once upon a time, before there was even Storynory, I wrote a novel for grown ups about Russia called Red Fortunes. And finally, much to my surprise, this book has just been published. It's set in 1914, just before the revolution, and then again in 1920 when the Bolsheviks had already taken over. The hero is a young Englishman called George who goes out to Russia seeking his fortune. His Russian partners have a mine that promises to yield up a rare and mysterious gem called Alexandrite. It's not long, however, before he is distracted by a young woman called Vera. That's the way the plot gets going. There is plenty of rich atmosphere - descriptions of the Russian ballet - the snows of Siberia - a wedding inside a jail - and some businessy and romantic stuff too - as I say - it is a novel for grown ups not kids. Now I know that there are a lot of parents, teachers, and language learners who listen to Storynory. There are some adults who listen without children just because they love audio. If you enjoy my writing, this is some of my best. And here's some really good news - if you are quick it's free on Kindle for the first 5 days of May. Yes, absolutely free just like Storynory. After that, it's available on Amazon both for Kindle and in Paperback at the normal sort of prices. You could really help support my writing - and by extension the love of my life, storynory to keep going, which is always a bit of a struggle, - by getting a copy of Red Fortunes and leaving a review on Amazon. Don't worry about it being free, it's the reviews, the recommendations, and driving it up the charts on Amazon that will help sell this book
Oh, and by the way, it's my 50th birthday this weekend, so if you want to send Bertie a present, download the book - and write me a review ! It's called Red Fortunes - plural - it's by Hugh Fraser - it has a picture of a Russian girl on the cover - and it's on Amazon. All you grown-ups, please support Storynory by getting hold of a copy. I very much hope that you enjoy my Russian novel. Thank you for listening - and oh, don't miss the latest Katie Story on Storynory - it's one of our best, and it's called Katie and the Witch's Trial.