Albert Orangutan
Download the Audio (Right Click, Save As)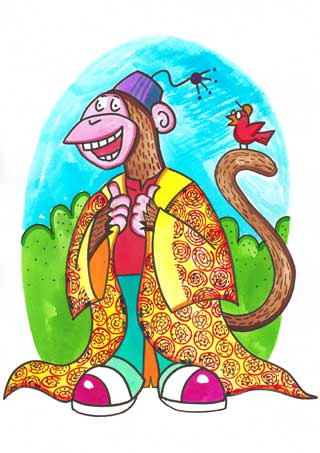 Do you think animals should wear clothes? Let us know when you have listened to this amusing poem. It tells the story of Albert Orangutan, who is a very fashionable ape.
Read by Richard Scott.
Written by Glenn Lawrence for Storynory.
Original Pictures for Storynory by Sophie Green.
Albert Orangutan swung through the trees
With his huge hairy arms he did so with ease
And rarely indeed would he come to a stop
Unless he swung past the animal shop
Now a stranger place you never did see
Every animal that shopped there agreed
No creature on earth was tailored better
Than Albert Orangutan with his smart suit and sweater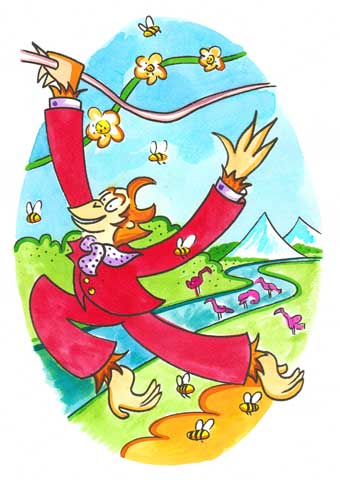 Then one day a monkey came to town
He was wearing the most beautiful gown
And all that passed had to stop and stare
At the best dressed animal that ever stood there
Word flew in a flash as fast as lightening
Albert was angry, it was a little bit frightening
'HOW DARE ANYONE DRESS BETTER THAN ME
I'LL TEACH HIM A LESSON, YOU WAIT AND SEE'
'But you don't even know him,' said the jungle mice
'You might really like him, we've heard he's quite nice'
But Albert didn't listen and stormed out to meet
The fashionable monkey who now lived up the street
On through the jungle Albert swung about
Past the volcanic river and the hot waterspout
Past the pink flamingos, past the hive of bees
He swung and swung along through the trees
And at last he past another Clothes shop
Where of course he just had to stop
'WHAAATTTT……..IS THIS I HEAR ABOUT A MONKEY
WHO DRESSES IN CLOTHES THAT ARE BRIGHT AND FUNKY?
HOW DARE ANYONE DRESS BETTER THAN ME
I MUST TEACH HIM A LESSON, DO YOU NOT AGREE?
The shopkeeper said, 'I have the best thing in town'
And out he came with an invisible gown
He gave it to Albert who smiled and stared
He then stood up and proudly declared
'THESE GARMENTS ARE THE BEST ANY ANIMAL HAS SEEN
BETTER THAN ANY GARMENT THERE HAS EVER BEEN'
The shopkeeper smiled and watched Albert turn and run
Albert grabbed a branch and swung and swung
All the way up to the end of his street
'To find the monkey with shoes on his feet!???'
Albert mused with a puzzled frown
'A monkey with a cap and monkey with a gown!?????
How ridiculous it is for an animal to wear clothes
How stupid it is not to feel the air through your toes'
Spying the monkey he landed with a thud
And squelched his feet in the earth and the mud
The monkey looked at him, up and down
And he announced, 'Ladies and gentleman we have a clown
Look at Albert, he's wearing no clothes
He's totally naked, completely exposed
Can Albert Orangutan really be
A better dressed animal than fashionable me?'
'WHHHHHAAAAAAAAAATTTTTTT……NAKED YOU SAY???
Well of course I am
You are a monkey and I'm an ORANGUTAN
The shopkeeper made me see something everyone knows
Orangutans and monkeys should never wear clothes'
And never again did anyone see
Clothes worn by Albert or by the monkey.