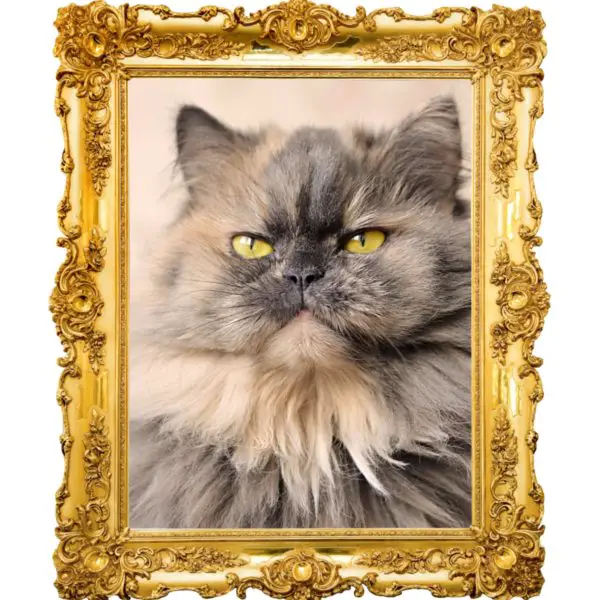 Written by Bertie
Read by Jana
Sponsored by Athletic Greens.
A portrait of a cat
Hello, This is Jana, and I'm here with another story about Jimmy Mouse, Judith Mouse, and Grandpa Mouse. I'm not sure what we should call this occasional series. Maybe mice stories?
The first story called the Cat that went Ting-A-ling, was loosely based on an Aesop fable. And we have taken it from there. You may recall that our family of mice have colonised a cafe by the sea-side. So far, the cafe is feline-free because, happily, the owner is allergic to cat fur.
One day, a lady came into the cafe with her arms stretched around a huge frame. She shuffled sideways carrying it. Then, she put it down, leaning against the bar where the owner made tea and coffee.
"It may seem cheeky of me," said the visitor, "But I was in your cafe the other day, and I couldn't help noticing that your walls are rather bare."
The owner shrugged. "I'm sorry if our naked bricks offend you."
"I am not a prude," said the visitor. "But your naked bricks are shivering. They are saying, 'please cover us with some beautiful paintings.' So I brought you this."
She stood back and revealed the frame to the cafe owner. It contained a canvas on which was painted, in oils, a portrait of a magnificent cat. It had the sort of face that was angry and cute at the same time. And its eyes looked straight at you. The posture and demeanour showed it to be a very self-important animal.
At the bottom of the frame, a plaque showed the title of the painting. "The Cat Who Repented."
The cafe owner lowered his eyes and said: "I'm afraid I don't have any money for art."
"That is the most wonderful thing about an art cafe," said the visitor. "You don't need any money for art because we painters will gladly borrow your walls to show our work. All you have to do is to allow us to display a little price tag so anyone who falls in love with the painting can buy it."
"Yes, I like that idea," agreed the cafe owner.
"Deal," said the artist, who had come equipped with a hammer and picture hooks. A few knocks later, the regal cat was watching over the cafe.
The painting became quite a talking point. The cafe started to get busier, but it was hard to say if the cat alone was responsible. The weather was warming up, and the owner was selling tons of Cornish ice cream.
The customers often commented on the cat, and so did a family of mice who lived in the cafe. "Eeek!" screeched a little rodent called Rodina. "A giant cat has moved into the cafe!"
This news caused much squeaking, trembling, and gnashing of sharp little teeth.
Eventually, a clever mouse called Judith stuck her head out of the hole to see what was causing the fuss.
"That's not a real cat," she declared, "It's a painting called "The Cat who Repented."
"What does 'repented' mean?" asked her friend, Jimmy Mouse.
"It means he has seen the error of his ways. He does not want to eat mice any more."
"Wonderful. I wish more cats would repent."
"Are you sure?" asked a mouse called Henry. "The cat's eyes move. They followed me around the room. It would have eaten me if I hadn't run back home very fast."
"No, it wouldn't," said Judith. "It's called art when the artist is so good that the painting seems real."
"It's not just the eyes," declared another little mouse. "It's the sound it makes. It purrs."
"That's called psychology," explained Judith. "You are so convinced that that cat is real that you imagine you can hear it purring."
That night, some of the more adventurous mice ventured into the cafe to search for good things to eat. Soon they came scurrying back:
"Help! Help! The painting! It's alive!!!!"
"Don't be silly," said some of the mice. "It's not alive. It's just art."
"Well, this work of art has got teeth and claws and prowls around the room," said the little mouse, shaking with fright.
"You imagined that. It's called SciFi-cology," another mouse told him."
"And what about the purring? The cat goes prrrrrrrrrrrrr. Is that art, or is it SciFi?"
"Perhaps a bit of both."
The discussion grew louder and louder until Grandpa mouse woke up.
"Order, order!" he cried, waving his front paws. "All this squeaking will wake up the humans."
"Or the c-c-cat painting," said a worried little voice.
"Point of Order! Art doesn't wake up!" called out Judith.
"So art is always asleep, eh?" asked Grandpa Mouse. "We now need a courageous little mouse to venture forth and find out if that is indeed true."
There was little doubt who that courageous little mouse might be. So the shout went up: "Jimmy Mouse! Jimmy Mouse!"
"NOOOOOO!" protested Jimmy. "Why does it always have to be me?"
"Because," said Grandpa Mouse, "Time and again, you have proved yourself to be totally reliable."
"It's so unfair!" squeaked Jimmy. "Why does everyone think I'm reliable? I promise that I'll be totally unreliable, so you needn't bother sending me on any more dangerous, life-threatening missions."
"It's no use arguing," said Judith. "We know that you will always be reliable. It's in your nature, and you can't change your nature however hard you try."
Jimmy took a deep breath and ventured out of the mouse hole. When he reached the middle of the cafe, he climbed up the back of a chair and jumped heroically across a vast chasm onto a table. Here he was rewarded by the sight of a giant crumb of carrot cake. For a moment, he was transfixed by the sight of food, but then he remembered to look up and check the cat's portrait. The moonlight shone through a skylight directly onto the cat's cross looking face. Its green eyes seemed to stare straight back at him. He shuddered.
"He isn't looking at me, really," he thought. "It's only art."
Slowly he lowered his eyes from the painting and turned back towards his tempting crumb. But what was this? Two green eyes were speeding towards him. He wanted to run, but his little legs froze. "Oh No!" he called out. "Art can come alive!" And he thought those would be his last words on earth before he ascended to mousy heaven, which mice believe to be on the moon because it's made of cheese. He felt a shadow pass over him just as you would if you were standing under an aeroplane as it took off. But instead of pouncing on him, the giant fluff ball landed on the floor and carried on. Jimmy mouse managed to pull himself together and scramble back to the hole as fast as his little feet could carry him.
"The, the painting," said Jimmy, trembling. "It flies. I think it's what they call High Art."
Judith Mouse shook her head. Jimmy felt her disappointment in him.
"Really?" she asked. "Are you sure you are not being unreliable on purpose? So that they don't send you on any more dangerous missions?"
"I promise I am being reliable. It's more like a lion than a cat. It has teeth and claws that glint in the moonlight and eyes that glow in the dark."
The mice stayed at home and stayed hungry. Judith waited by the mousehole and listened out for any strange goings-on. Eventually, she fell asleep and only awoke in the morning when she heard a father manoeuvre a pushchair into the cafe. The child in the pushchair pointed at the painting and said:
"Puddy-Cat!"
"Yes, Puddy-Cat," echoed the father in a stupid baby voice.
"Ice cream," said the kid.
"Alwite, I get you ice-cweam," said the father.
"That dad sounds like an idiot," thought Judith mouse.
The cafe owner was all smiles as he went to the back of the shop to open the new freezer. But then he found that the freezer door was open. "I'm so sorry," he said, turning to the customers. "All the ice cream has melted. I don't understand how the freezer door was left open all night."
The kid began to howl: "I wanna ICE CREAM!" and the dad was frantically trying to calm him down, saying, "There, there, don't worry, daddy will get you an ice-cweam from a good shop."
After the father and toddler had left the cafe, the owner fetched a mop because ice cream had seeped out onto the floor and formed a large puddle. The freezer door was still open, and the machine was humming.
"Is that a cat purring or is it…. I know it's the freezer," thought Judith. "It's the freezer that's purring like a cat."
Now the owner was sure he had left the freezer door shut. Later on, he told the story to a regular customer who gave some advice. "I see you've got a security camera next to the cat painting on the wall. So why don't you play it back and see if any ghosts or kids have sneaked in behind the counter and stolen some ice cream? The camera doesn't lie. So that's how you'll solve this mystery."
The cafe owner said, "You know, that's a good idea." The security camera was linked to his phone, and in between customers, he played the video on fast speed. When the time stamp showed ten past midnight, he noticed the door of the freezer open and the light inside come on. So he played back the film and looked again. This is what he saw: a cat, just like the one in the picture, opened the door with its paw and scratched at the carton of ice cream. Then he used his rough tongue to lick the frozen contents. When he had enough, he closed the door with his paw - only it didn't close properly. You could still see the light through the gap in the door.
"How utterly extraordinary!" exclaimed the owner staring at the painting, "Could it be?.... No, of course, it couldn't. That's way too creepy. I must be going crazy to think a work of art could come alive. The cat must be getting in through a window."
And so he investigated. He found an open window upstairs and saw how the cat could jump onto it from the top of a garage around the back of the shop. It was a very clever cat indeed that loved ice cream. So the shop owner closed the window shut, which put a stop to his thieving!
Later that day, Lawrence, a regular customer, bought the portrait as a birthday present for his wife. She loved cats.
And now the dreaded cat picture was gone, the mice once more felt brave enough to venture out at night searching for crumbs. The painting that replaced the cat was of a canary - and fortunately, mice are not afraid of canaries.
And that was the story called A portrait of a cat, written by Bertie for storynory.com. In a moment I have a short story that tells you more about the Cat who Repented but first I'd just like to tell you about our wonderful Sponsor, Athletic Greens!
Now, here's a traditional Persian story called The Cat Who Repented. It's told in the voice of Judith Mouse.
Once upon a time, in Persia, there lived a royal cat. He had fascinating eyes and long whiskers and sharp teeth, and he hunted like a lion.
Nobody was happier than this cat. Not even the newly wedded bride, nor the wealthy host who looks around at the smiling faces of his guests.
The mice lived in fear of the cat, for good reason. He had proved himself to be a deadly enemy. But the cat grew lazy and was bored of his hunting duties. One day, a mouse heard him praying softly.
"I have repented. I am sorry that I ever ambushed and ate defenceless little mice. I shall never lay a paw or a claw or a tooth on a mouse again. From now on, I shall live a blameless life."
He repeated this so many times and with so much feeling that he really thought he meant it, and finally he wept for grief.
A little mouse happened to be behind the chair, overheard the cat's vows, and speedily carried the glad but surprising news to the other mice.
The mice began to make merry when they heard this startling story.
All danced and shouted, "Eek Eek!!"
A few days after the feast, the King of the mice said to them, "Oh, friends, all of you bring presents worthy of the cat!" Then the mice scattered in search of gifts, and soon returned, each bearing something worthy.
They brought salted nuts and melon seeds, lumps of cheese, sugar candy, pistachios nuts, little cakes iced with sugar, and many other good things.
Then they bore their gifts before the King of the Cats. When in the royal presence, they made humble bows touching their foreheads on the ground, and saluting him, said:
"Oh, master, liberator of the lives of all, we have brought gifts worthy of thy service. We ask thee to accept of them."
Then the cat thought to himself, "I am rewarded for my good deeds.. Though I have endured much hunger, yet this day finds me well rewarded"
Then he turned to the mice, and asked them to come nearer, calling them his friends. And they went forward trembling. So frightened were they that they were hardly aware of what they were doing. When they were close, the cat made a sudden spring upon them.
The mice squattered in all directions, only just getting away with their little lives. Fortunately the cat, who was weak with hunger from his repenting, had not been as springy as in former days.
Now, for the moral of this story, we must turn to Judith Mouse who is very clever and knows what stories mean. Judith, give us your thoughts:
Judith's voice
"It's an interesting story, a little like the Leopard who changed his spots. I believe that it means that a cat can't change its nature, just as a leopard can't change its spots. It's not its fault that it wants to eat birds and mice, it can't help it because its a cat and cat's have their nature."
Thank you Judith. That's a very shrewd assessment.
For now, from me, Jana, at storynory.com