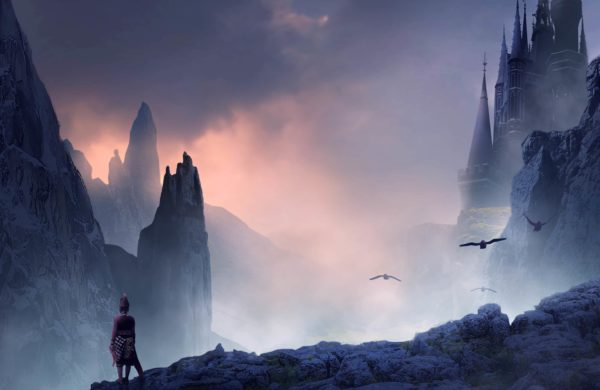 Childe Rowland
Hello and welcome to Storynory!
This is Jana and I'm back with another English fairytale.
Dedicated to Juliet and Willa who support Storynory on Patreon.
Kindly Sponsored by Storybird.ai - Custom Audio Stories for Kids.
This story is quite dark and mysterious and it features a very old English game, which we call Football, and in America, known as Soccer.
Many centuries ago, in the time of knights and dragons, three brothers and their sister were playing football on a green in front of a church. The youngest, whose name was Rowland, was the most skilled with the ball. He scooped it up off the ground with his foot, and bounced it up and down on his knees, until finally he let it drop. But as he was about to kick it, he slipped in the mud, and instead of driving the ball towards the goal, he sent it up into the air and it soared over the nave of the church, and landed in the graveyard behind it.
His two elder brothers looked at him as he lay on the ground, and chorused together: "Rowland!!!!!" Meanwhile, their sister, Ellen, skipped off to fetch the ball from behind the church. But she was not careful to go around the Church keeping it on her right hand side. No, instead, she circled the church on her left. In other words, she went "widdershins". In superstitious times it was considered bad luck to go "widdershins" because the sun travels in the opposite direction.
The three boys waited for their sister to return from behind the church. And then they waited some more. But she did not come back. They looked at each other and shrugged.
Eventually, Rowland went to look for Ellen. He found her footprints, leading into the graveyard, but they stopped in mid track - as if she had vanished into thin air.
The mother of these four children was none other than Queen Guinevere. By this time, her husband, King Arthur, was buried on the island of Avalon. His famed Knights of the Round table had disbursed. The Castle of Camelot lay in ruins and she now lived with her children in a townhouse, in the northern city of Carlisle.
When the three boys told their mother how their sister had disappeared, she was distraught:
"Oh my Ellen has been taken by the King of the Elves," she declared. "Only the bravest knight in all of England can save her. Where is Sir Lancelot? Where is Sir Gawain? What has become of Sir Eric? They are all gone. Nobody is here to defend us."
"Mother," said the eldest of the Sons. "It's no use calling on those names of old. They are long gone. But do not despair. I shall travel to the Land of the Elves and rescue my sister."
"No! no!" pleaded Guinevere, "I cannot lose another child."
But what son of Arthur could leave his sister at the mercy of the Elves? Young though he was, he mounted his steed and set off on a quest to rescue Ellen. He departed over the hill, and did not return. For a whole year he was absent, and still they received no news of him.
And then the day came when the second eldest son mounted his steed and swore that he would bring back his lost siblings. Guinevere cried and begged him not to go, pleading, "I must not lose a third child." But all in vain. He was, after all, a son of Arthur, and the Knight's code was deep inside him.
And so the second son disappeared and did not return. A year passed and the last and youngest of the family, Rowland, came to his mother and said:
"Mother. I see how you grieve every day for my sister, and my two older brothers. You think that you shall never see them again. But have faith! I tell you, you are mistaken, for I shall rescue them from the land of the Elves."
"No, No, this cannot be," pleaded Guinevere. "Is it not enough that I have lost a husband and three children? You are all I have left. Do not leave me."
But Rowland was a true son of King Arthur, and he could not turn his back on a challenge.
"Dear Mother," he said, "Do not worry. I will enlist the help of Father's most trusted friend. If I follow his advice, I cannot fail, for he knows more than any other person about magic, fairies, and eleves."
And his mother knew exactly whom he was referring to : none other than the famous wizard, Merlin.
After the passing of King Arthur, Merlin retired to live deep in the woods where he kept a log cabin. In the woods, he could find most of what he needed to experiment with medicines and spells. The children of Guinevere and Arthur were among the few people who knew how to find him, because he had been their teacher.
The wooded hillside was teaming with magical beings. Rowland knew, because Merlin had taught him, that a rabbit or a deer might contain the soul of an enchanted princess. There were fairies there too - and sometimes they bewitched human beings and kept them prisoner for a 100 years. Fairy kidnappings did not happen often, but as Rowland led his horse along the woodland path, he kept his hand on the hilt of his sword, just in case.
He found Merlin sitting at a table outside his hut. The old wizard was sorting through some mushrooms, picking out the most magical, and making sure that he had not picked any that were poisonous. When he saw King Arthur's youngests son, he greeted him, and went inside to prepare a welcome drink out of herbs and berries. Then they both sat down at the oak table. Roland told him how his sister had disappeared behind the church, and how his two elder brothers had departed to rescue her, but had not returned.
"I must succeed where my brothers have failed, or else I shall break my mother's heart. This is why I have come to you, my father's most trusted friend and adviser. Merlin, if you make me a Knight of the Round Table, I am certain to achieve victory."
But Merlin shook his head and said:
"You must earn your spurs before you can become a knight. I shall give you the title Childe, which applies to one who seeks the honour of knighthood. If you travel to the Land of the Elves and bring back your sister and your two brothers, only then can I dub you with the title "Sir" that belongs to a true knight."
"Thank you Merlin," said Childe Rowland. "I shall succeed by the grace of God. But do you have any advice for me?"
"From the moment you enter the land of the Elves to the moment you depart, no food must pass between your lips, not a crumb, not a morsel, no matter how hungry you are. If you obey this rule, I believe that you shall succeed where your brothers failed. "
"Thank you," said Rowland, "I will do my utmost to be worthy of your faith, and now I must be on my way."
And Merlin replied: "Hold on a moment! Before you go, I have something to give you. Wait here." Merlin went into his hut and returned with a magnificent weapon. "This was your father's sword. Its name is Excalibur and it has never struck in vain."
Childe Rowland went down on one knee and thanked the Wizard for the great gift. Now he knew that he had the wizard's trust.
He set off in search of the Land of the Elves. He rode along dusty roads, over crooked mountains, and across ominous moors.
He passed many nights out in the open, cold, wet and hungry. Eventually he reached the Land of the Elves. There he met magical people, who were not so different from human beings, only much larger, including those who looked after cows, horses and pigs. He asked them all for directions to the Castle of the King, and they all claimed that they did not know the answer to his questions. He suspected that they were lying and rode on.
Eventually he met a woman feeding her hens.
"Well young lad," she said, "If you wish to meet our king, you must ride three times around the green hill. Be sure to travel widdershins. Each time you go round you must call out, "Open up! Open Up! Let me in! And eventually the door of the castle shall open for you. But beware of the King of the Elves. He keeps little human beings captive in his castle, he does."
" I can take care of myself ," said Childe Rowland, tapping his father's sword, Excalibur, that had never struck in vain.
"Here laddie, take some of these eggs, for you look half starved."
Childe Rowland looked at the eggs greedily, and he was about to accept the gift when he recalled Merlin's warning not to eat any food while he was in the Land of the Elves.
"Thank you for your help. But I have no time for food!" he said, and he rode off in the direction of the green hill.
Just as he had been told, he rode around the hill three times Widdershins and called out, "Open up! Open Up! Let me in", and eventually, just as the woman had said, a door opened up. He tethered his horse to a tree trunk that was hollowed out, with a hole in it that gaped like a dead mouth. Then he passed through the door into the hillside. At first he found himself in an arched tunnel with an eerie light that did not come from either windows or candles. He walked along the tunnel until he came to some double doors which he pushed open. Now he was in a magnificent palace. The ceiling was as high as a cathedral's and was supported by huge gothic columns. An immense lamp hung on a gold chain, and at its centre, a black lump of coal emitted brilliant rays like the sun. The light danced on the multi-coloured jewels, shaped into leaves and flowers, which crept around the floor of the hall like an ornamental garden. At the back was a giant couch made of velvet and silk. And seated on the couch, he saw his sister, Ellen, combing her golden hair. She was not at all surprised or excited to see her brother, because the King of the Elves had put her under a spell that made her slow and docile. He went up to greet her, and she said cooly:
"Your brothers came before you. Now they are prisoners in the dark tower, and are nearly dead. You should not have come here. The same fate shall befall you now, and our mother will have lost all her children."
"I have promised her that I shall rescue you all," said Rowland, tapping his father's sword, Excalibur, that never struck in vain.
"May God help you, you poor, helpless fool." said his sister.
She put down the comb and slowly arose from the couch, before fetching a golden bowl of milk and bread for her brother.
"Thank you sister," he said, "I have never felt hunger such as this."
She looked at him with eyes full of pity, but could not warn her brother not to eat the food because of the spell she was under. He was about to take it when he recalled Merlin's warning and he said: "But I cannot eat until I have rescued you."
Then a giant voice boomed from the tunnel.
"Fee Fi Fo Fum!
I smell the blood of a British Man!
Childe Rowland to the Dark Tower Came. "
The voice was followed by the giant King of the Elves who smashed through the double doors. Childe Rowland drew his father's sword, Excalibur, that never struck in vain. The Elf King was large and strong, but Rowland was quick and nimble, and eventually he beat the King into submission. He could have cut off his Elffin head, but instead he gave him a chance for survival:
"Release my two brothers, and grant all of us safe passage from the land of the Elves and only then I shall grant you life," he declared.
The king agreed to Rowland's terms. The brothers were lying in a trance in a cell of the dark tower. The king took a little phial of coloured liquid and sprinkled it on their foreheads and they came too. He did the same for Ellen who also snapped out of her trance. Then the four children departed for England, their home, and their mother, Queen Guinevere.