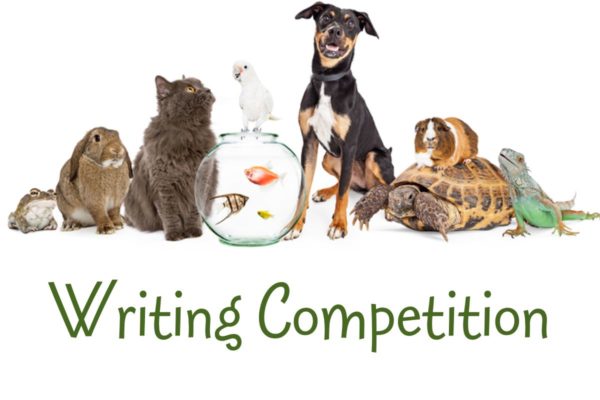 Send us your TRUE LIFE, unusual, short story or event about your very Special Pet by 22nd September. 
Entrants must be 16 years or younger. *Please let us know your age*
Mum and Dad can help with spelling,  typing and grammar. Include a photo or drawing of your pet if you can.  
Email your story to [email protected]
We will read out the best five stories on Storynory!
Singing by Jana.
Competition Groove by Jana and Bertie.
Lyrics..
"Competition time ..
Get your stories out
Think what it's all about
Your is plot ready
Your mind is calm and steady
Sit down and concentrate
No time to wait
The Clock is ticking
The winners need picking
So if you want to win
Send your stories in -
Storynorys waiting.."
Illustration by By adogslifephoto / Adobe
*Storynory Writing Competition Alert *
Hello,
This is Jana,
Are you ready for a 'real life' story writing competition? Well get your fingers ready at your keyboards.
We'd like you to send us a 'mysterious, but true' story of your extraordinary pets. We are looking for 'real life' stories involving a strange encounter that you've experienced with your dog, cat, chinchilla, horse, rabbit, pig, goat, parrot or if you have a pet tiger or bear.
Do you have a special bond with your pet?
Does your dog or cat possess an unexplained power or have a sixth sense?
Does your pet treat you differently or appear to be more affectionate when you are unwell?
Dogs seem to have a natural empathy for their human best friend, through hardships, sufferings, and at the best of times, and only want to make us happy and protect us.
We really do have much to learn from our canine friends.
Most of us are aware that dogs are remarkable creatures in a way that their senses far exceed a humans. They are more intuitive and have an acute sense of smell and hearing than we do. They are well known for their intelligence levels and loyalty to their masters. Some dogs even have the ability to detect impending disasters before they happen thanks to their powerful sense of smell, and might try to warn us. It's been said that they can also sense illnesses. Some believe dogs can see ghosts.. hmm what do you think? Have you witnessed anything heroic or astounding that your four legged friend has done?
And what about our feline friends?
I've personally never had a cat, but I hear that they are super intelligent and known for their independence too. I've also heard that some cats are the most affectionate of animals and can sense your emotions too.
Do you have an extraordinary, no 'ordinary' cat? Do you share a special bond or language with your cherished mogg?
So in connection with our beloved animals, we are holding a competition that involves an exceptionally gifted pet in your family.
If you would like to share your own unique story, what I'd like is for you to send me a 'short, 'real life' story involving an 'extra ordinary' event or special occurrence that happened between you, or a family member and your pet.
To enter the competition, Email me at [email protected]
All contestants must be aged 16 years old or younger.
Entries must in by 22nd September 2019.
I'm super excited to hear from you all and read your real life stories!
Please keep them short and once I've selected, I will read out my top 5 favourite amazing stories.
Good Luck and get writing!
From me, Jana, at Storynory.com, for now, take care.