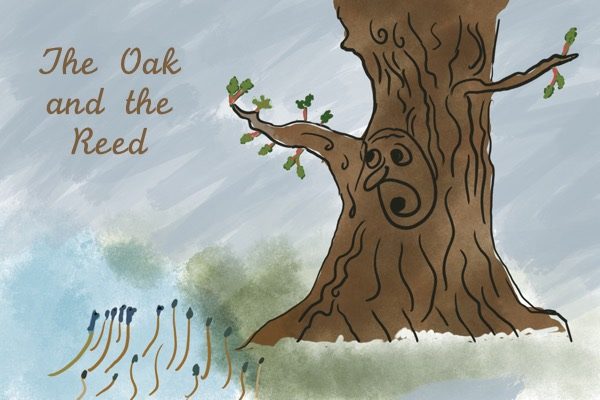 An Aesop fable retold in verse by Jeffreys Taylor (1792–1853).
Read by Richard.
Proofread and audio edited by Jana Elizabeth.
Hello this is Richard, and I am here with an ancient story about an oak tree and a reed. Which do you think would survive best in a fierce storm?
THE wind was high, the thunder loud ;
The lightning flash'd from cloud to cloud ;
When an old oak, whose aged form
Ere now had witness'd many a storm,
Had borne the brunt, and still withstood
The wind, the lightning, and the flood,
Was torn up from his roots at last,
By one tremendous, wintry blast ;
Then headlong to the stream descended ;
His ancient pride and glory ended.
The ample waters soon convey'd
The oak-tree from his well-known shade.
Then unknown, naked hills were seen,
With rude and dreary wilds between,
And by the river's oozy edge
Grew weakly reeds and languid sedge.
" Strange ! " thought the oak, (permit the fable,)
" That plants so slender should be able
Thus to survive the stormy day,
Which made my stubborn limbs give way."
A reed, just bending with the storm,
Then to the oak inclined its form ;
And thus it whisper'd, ' Aged friend,
I do not break, because I bend;
I find it best, while troubles last,
To bow beneath them till they're past."
Thus spoke the trembling reed, and ceased ;
For now the windy storm increased ;
Then to the earth it bow'd its head,
Proving the truth of what it said.
Meanwhile the oak, with quicken'd sail,
Was hurried onward by the gale ;
And scarce had time allow'd to say
" You're right," ere he was borne away.
The moral, no doubt, you've already found out,
Since the fable has lent its assistance ;
For in trouble, 'tis clear, they've most reason to fear,
Who make the most stubborn resistance.
And that was Aesop's fable of the Oak and the Reed, retold in verse by Jeffrey's Taylor and it was read by me, Richard Scott, for Storynory.com.
And Bertie says that if you have ever been for a walk in the park, the day after a great storm, you have probably seen some tall and strong trees that have been blown over by the wind. Sometimes, when the force is great, it pays to be a little bit flexible and bendy like the reed.
For now, from me Richard. Goodbye!