Tim the Tadpole Learns About Easter Eggs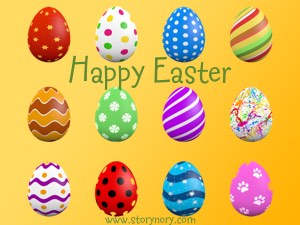 This morning on the Pond, Little Tim, who is a very curious tadpole, looked out of the green water and spotted a rabbit hopping around the Vegetable patch.Hey, Bertie, Tim called out excitedly, Is that The Easter Bunny?The sighting of a rabbit by the pond leads Tim to ask a question of great interest to many of our listeners: where do Easter Eggs come from?
As you know, before Bertie was turned into a frog, he used to be a handsome prince and he went to school in the palace and learned lots and lots of interesting things. But now he is a frog and lives on the pond, so he does not always remember everything the teacher said in school. But luckily, he knows somebody who can find out.
This short history of Easter Eggs is the first of our True Storynories. We hope that you will enjoy Tim's Lessons as much as our fairy tales and poems.
Read by Natasha Lee Lewis. Duration 6.25